Aquafadas on Friday announced the release of BannerZest, new presentation software for Mac OS X. BannerZest is available in regular and pro versions for $49 and $129 respectively.
BannerZest turns a collection of images or graphics into an Adobe Flash gallery, complete with a navigation banner or a slideshow. It includes designer-made templates and works with popular Web site and blog editors including iWeb, RapidWeaver, Dreamweaver, Freeway and more. It also supports social Web sites.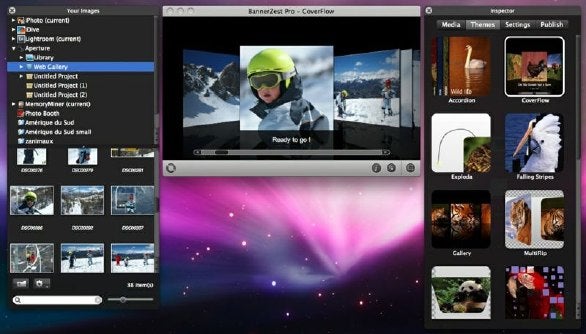 Upload settings are saved within the document, so if any changes are required, you hit the upload button and BannerZest will replace the old file with a new one without requiring any HTML modification.
The Pro version incorporates additional advanced publishing options, some workflow enhancements and specific templates not included in the standard version. It works with JavaScript media viewer applications, as well.
System requirements call for Mac OS X v10.4.11 or later, G4/1GHz or faster (Intel included), 512MB RAM, 21.1MB hard disk space, Internet connection.