Deliver2Mac has announced the release of Ankh 2, a classic adventure game, and Brain Jogging, a brain fitness game, both for Mac OS X.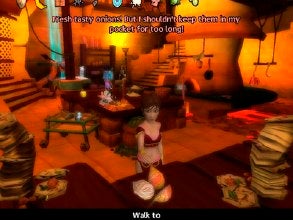 In Ankh 2: Heart of Osiris, you return to the land of ancient Egypt as you join the hapless Assil, who's managed to ward off a death curse only to lose his beloved Thara and have the ankh stolen by assassins. The sequel to the original Ankh game, it's a classic graphical adventure complete with cinematic full-motion sequences and professional voice actors, with many twists, turns, and a humorous storyline.
System requirements call for Mac OS X v10.3.9 or later, G4/1.4GHz or faster (including Intel), 512MB RAM, graphics card with 64MB VRAM (including Intel GMA 950), 1GB hard drive space.
Ankh 2 costs $39.95 and is available for digital download.
More Dr. Tool Brain Jogging is a "brain fitness" style game that helps keep your brain in tune with daily training. Each day you train your response times, improving your mind and your effectiveness with different tasks like balancing the scales or finding the hidden stones within the "Blackbox." You can take and repeat the training classes as frequently as you like, and then take challenges once you're ready. The game features three difficulty levels, statistics and more.
System requirements call for Mac OS X v10.3.9 or later, G4/800MHz or faster, 256MB RAM, 32MB VRAM and Internet access.
More Dr. Tool Brain Jogging costs $19.95.