At a Glance
Expert's Rating
Pros
Better tools for managing employee sick and vacation time
Improved help system
Revamped interface
New task drawer for storing shortcuts
.Mac and iCal integration
Cons
Forms creation and editing still problematic
Limited upgrade value for existing users
New drawers could provide more useful features
Our Verdict
MYOB AccountEdge ( ) and its smaller but no less robust sibling, MYOB FirstEdge ( ), have been my perennial business-oriented accounting favorites for a number of years. Both programs offer excellent features, make business accounting easy for the masses, and keep your accountant happy with a foundation of double-entry accounting.
None of that has changed in the latest release of AccountEdge. It's still an excellent business accounting application. But the program's appearance is different, and there are now better tools to handle employee sick and vacation leave. AccountEdge is now also better integrated with iCal and .Mac, and some features present in previous versions benefit from minor enhancements.
Looking better every year
AccountEdge 2008 sports a familiar but completely resurfaced Command Center, the main interface you use to access all of the software's accounting features. The program's buttons have been redesigned, giving AccountEdge a softer, more OS X-like look and feel. It also includes a new drawer where users can store shortcuts to all of their favorite or oft-used AccountEdge features. While this new drawer has the potential to be really useful, at present it seems more like a "Hey, we're programming in Cocoa!" feature than something that adds any real value. I would have preferred, for example, that the drawer display a quick view of my company's cash flow or an Accounts Receivable summary. While it's possible to save shortcuts to these kinds of reports in the drawer, being able to see this info at a glance without having to open the entire report would have been more useful.
Redesign is good
Older versions of AccountEdge had three annoying design elements that have been fixed in this release. First, command-N now appropriately creates a new transaction specific to the area of the program you're working in. Type command-N while you're working with inventory or sales, or on any other screen where a new item is appropriate, and you'll see a new window where you can create a new item or invoice. In older versions of the program, this key combination always opened the New Company wizard, which most users would likely need only once or twice in a lifetime of using AccountEdge. Second, resizing the Command Center window now resizes everything in the window. In previous versions of the program, this enlarged only the borders around all of the Command Center's buttons.
Finally, AccountEdge now has a completely revamped and truly useful help system. Finding answers to your questions in earlier versions of AccountEdge was at best spotty, and more likely futile. I was pleased with the redesigned help system and, while it wasn't as detailed with "how-to" information as I would have preferred, I found it to be much better at helping me find useful information than its predecessor was.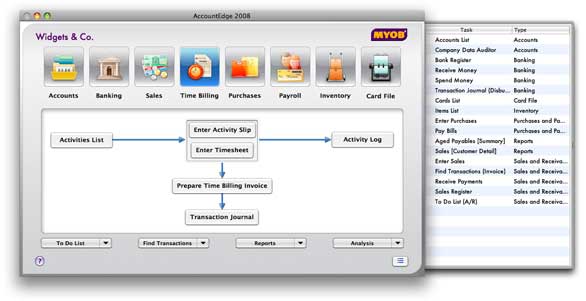 AccountEdge's best new features revolve around employees and payroll. The program now offers you the option of emailing pay stubs to employees and makes it easier to track and account for an employee's accrued and used sick and vacation time. There have also been minor changes to what you can view and the information that will print on check stubs and some reports.
Unfortunately, I still find the program's form creation and editing tools to be less than optimal. I've said in previous reviews of both FirstEdge and AccountEdge that form creation is a considerable weak point for these programs. They simply lack the simplicity you find in programs like FileMaker Pro ( ) or FileMaker's new Bento ( ) database programs. And, forms being the public face you present to your customers and vendors, these tools should more closely resemble the ones found in desktop publishing programs. This, by the way, is not just a knock on AccountEdge; QuickBooks ( ) suffers from the same problem.
The new version of AccountEdge completes the program's Apple iApp integration, which began with Address Book synchronization in an earlier release, in two ways. You can now configure AccountEdge to automatically back up your company file to .Mac, and you can schedule tasks and create reminders for upcoming events using iCal. This means that you no longer have to open AccountEdge to view to-do reminders or other scheduled events. Also, AccountEdge offers you the advantage of selecting the events that you want to appear in iCal. So, for example, you can set up an iCal reminder for a recurring transaction, like paying you auto lease, while choosing not to set an iCal reminder for paying your utility bill.
Macworld's buying advice
MYOB AccountEdge remains the best business-targeted accounting app available for the Mac. But, as in last year's release, new features added to the 2008 version may be of negligible value to businesses already using AccountEdge. Better tools for employee sick leave and vacation time are welcome additions to the program, but pretty buttons, iCal integration, and .Mac backups are not enough to make this program a necessary upgrade for current users.
[Jeffery Battersby is a regular contributor to Macworld. You can read his blog and get answers to your Mac questions at jeffbattersby.com.]