A growing audience of photo enthusiasts has recently emerged—one with little patience for the often painstaking, time-consuming craft of image editing. The social networking and photo-sharing crowd—Flickr and Facebook are their middle names—seek quick photo editing directly in the browser and on the go.
Users who want to bring images from their camera to the Web in as few steps as possible can turn to the new beta release of Photoshop Express, Adobe's online photo editing, hosting, storage, and showcase for snap shooters.
Online image editing is not a radical new concept—several well-received products in this genre have popped up in recent years. Express differentiates itself from most of these services by providing a complete end-to-end experience: uploading and editing your photos; storing and hosting them in albums and galleries, and sharing them through e-mail, slideshows, and via online services like Facebook, Photobucket, Picasa, and—soon, Adobe says—Flickr.
I took Photoshop Express for a spin on two different systems—a first-generation MacBook Pro and a Power Mac G5—and on two different browsers, Safari and Firefox. On the whole, I found its features fairly deep, its performance respectable, and its interface intriguing. I encountered a few glitches here and there, while pining for some features I wish Express would offer.
And perhaps some of those features will work their way into the final version of Photoshop Express. By releasing the service in beta form, Adobe is poised to take customer suggestions while also introducing a steady stream of updates and improvements to its new offering.
Interface
Photoshop Express launches to reveal a simple, chic-looking charcoal gray background. The color is designed to be easy on the eyes and provide a neutral backdrop for your photos, but it's too dark for my taste, and the tiny white menu lettering doesn't make it any more inviting. I think letting people choose a background color (as they can with iPhoto, Bridge CS3, or Aperture) makes sense, especially considering this app's mobile orientation.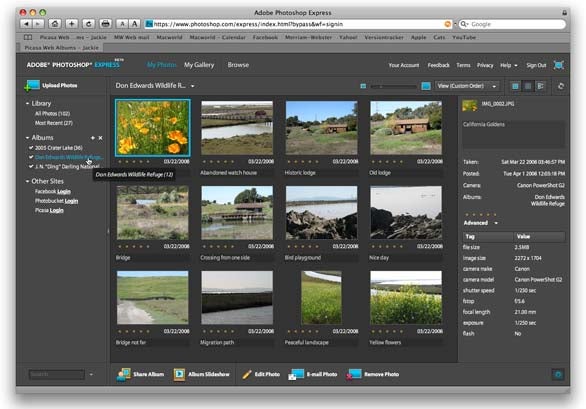 The opening screen sports four simple buttons: My Photos, My Gallery, Browse, and Upload Photos. The My Photos button leads you to your library of uploaded images. My Gallery leads to you the albums you created with those images. Browse takes you to the public galleries created by you and others. But you don't have to create elaborate albums or galleries.
Upload Photos will likely be your first stop. If you have photos on Facebook, Picasa, or Photobucket, you can link to them within your Express account and edit them in the Express canvas. More on that below.
You view all your photos in the Library. Click on All Photos to see everything, or Most Recent, to see the last batch you uploaded. Express gives you a choice of how to view your photos: single, grid, or table. You can sort your photos by date or rating, or view your photos by name, rating, date, or caption. A graphical slider lets you adjust thumbnail size.
Each view gives you a way to perform tasks like add a caption, view a photo's metadata, edit, e-mail, and remove a photo.
Be careful never to navigate with the Back button of your browser, as it prompts a dialog alerting you that you're about to end the session: clicking on the Cancel button preserves the session. That took a bit of getting used to, as did having to use the browser window slider bar to navigate through images, as opposed to rolling the mouse button to quickly cruise a page.
To create an album, just locate the Albums label in the left sidebar, click the Plus (+) button, and type the album name. A checkbox next to each album lets you make those pictures public; keep your album private by leaving that box unchecked. Click the X button to remove an album. Express has some limitations right now, but they shouldn't bother its target audience. Photo file formats are JPEG only, photos can't be more than 10MB, and you have 2GB of free server space to store everything.
Album colors—the border around your album or slideshow in your gallery—are set to one color, but I hope that will change soon. The search feature also is imperfect. There are no partial searches, and even an exact Album search did not locate my own album.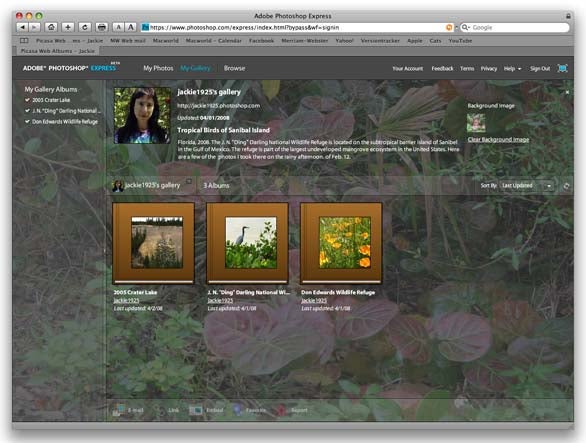 While most editing tools in Express are self explanatory, it would be nice to have a contextual help system to benefit the casual snap shooters this service is targeting. There's a link to the FAQ and to a moderated forum, which are helpful, but answers should be easier and faster to locate.
Working with pictures
Once you upload your images, the fun begins. The My Photos library page has an intuitive layout. At left, you'll see links to all your images and albums. When you choose a photo, a blue border highlights the selection. A single click near the bottom of the thumbnail reveals a pull-down menu with a number of options: You can edit the photo, or rotate, e-mail, or download it. The Link and Embed commands will load URLs or HTML links into your clipboard and let you paste them into e-mails or Web documents.
Additional commands let you use an image as the cover of a photo album, as a profile image on your gallery page, or as a gallery background image to liven up that dark canvas. This menu also lets you remove images from the library or the gallery. Or you can just open an image for editing by double-clicking.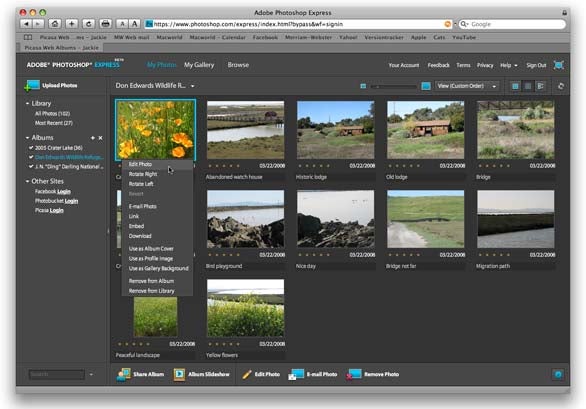 Icons at the bottom of the window also give you some basic commands such as: Create Album, Edit Photo, E-mail Photo, and Remove Photo.
The Info button on the lower right corner lets you view basic data about each image, such as the date it was shot and the make and model of the camera, while an expansion triangle gives you advanced information such as file size, focal length, image size, F-stop, exposure, and more. You can toggle this information panel to enlarge the canvas. There's even a full screen mode.
Views and their associated commands are contextual. So if you're working within an album, the icons at the bottom of the window also let you share the album and create a slideshow.
Editing pictures
A double-click on the thumbnail brings your photo up for editing, and a set of 17 built-in controls at the left side of the window give you three sets of commands: Basics, Tuning, and Effects. Basics let you crop and rotate, auto correct, correct exposure, remove red eye, touch up, and fix saturation. Tuning controls let you adjust white balance, highlight, fill light, and sharpen or soft focus an image. The Effects include choosing a pop color, changing color, converting a color image to black and white, tinting an image with two colors, sketching the image, and distorting.
Each control comes up separately, but you don't have to accept changes until you're finished using all the tools you want. You can edit in the window or enlarge the picture to full-screen mode, and you can zoom in and out, navigating via a thumbnail with a grabber hand.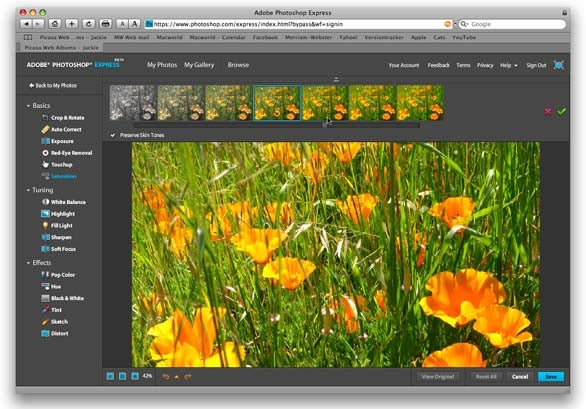 For most controls, a filmstrip appears at the top of the window giving you a range of at least six choices for altering the picture, and a slider bar for fine-tuning within those choices. As you mouse over the filmstrip, a preview tells you how your choice will affect the photo. Tool tips sometimes appear as part of the filmstrip telling you more about what the edit will do. The green checkmark means OK, the red X means no. But even if you make a mistake or don't like your edit, you can always revert to the original image, even after you've clicked the Save button. The Reset All and Cancel buttons also let you refuse edits.
You can download edited images from Express to your desktop, but you're limited as to dimension. You cannot specify image size via the cropping tool. But you can get information on the original size of an image by looking at the info box. It would be nice to specify image size along with other edits for the future.
Performance
You'll need a broadband connection to the Internet to use Express, and the faster the better. Using my home DSL account on a first-generation MacBook Pro, I got impatient with the amount of time it took to upload images. A folder of 35 images totaling 53.1MB took about 18 minutes to arrive at Adobe's server. In contrast, 27 of those same images took 3 minutes on my office's T1 line. Even on faster machines, there was a second or two of lag time as the picture took time to focus on the screen.
Photoshop Express has some basic sharing features, which worked well in my tests. You can e-mail an album or a slide show to someone. You can also send a link to a single photo via e-mail, or you can use the other photo-sharing services you already belong to for exchanging and updating existing photo collections. All of this worked fine in my testing. Express has some rudimentary slideshow controls, and they look OK, but they're not as highly evolved or attractive as what you'll find in iPhoto. I also found the performance a little spotty at times.
Interfacing with networking sites
Using the Express interface to get your edited photos into Facebook, Picasa, and Photobucket is fairly easy. When you first click on a third party link, the program prompts you to sign out of Express and log in to that service. It then opens any album or image you choose in the Express canvas. When you finish your edits, they show up in the original album. Or you can simply move your Express albums to those services.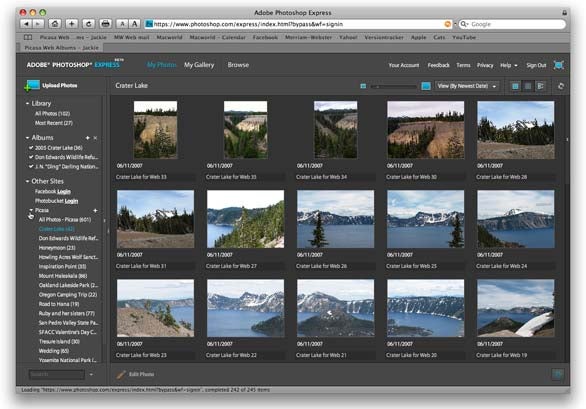 To move an album, you use the Express interface to create an album in Facebook, for example, and move all the photos you want into it. It would be nice if there were some kind of right-click action that would move all the photos at once, though selecting and dragging groups of images was not a big deal. There are no instructions that tell you exactly what to expect, so my first Facebook operation was a little confusing. However, once I authorized Express to access my Facebook account, and specifically to upload or modify my photos, I had no further problems.
Interaction with Picasa and Photobucket went more smoothly. As soon as I signed into Picasa, I saw all of the albums I already had there listed underneath the login on the left side of the Express canvas. I was able to add the new album and then drag the images into it. However, when I finished uploading a new album to Picasa, I did not see it in my list of albums on the Picasa site. By default, the album was private and not visible in my public gallery. I had to change a setting in Picasa's Edit Album Properties dialog to make it visible alongside the rest of my albums. And I had to consult the Picasa help to figure out what to do.
After you've logged in to your photo services the first time, it's easy to sign in and create or edit albums from your Express site after that. And given the 2GB of free space Adobe is hosting for free, it's a good thing you'll be able to clear out your Express space for newer images.
First impressions
Photoshop Express is very easy to set up and use, and its intended audience will enjoy its point and click, browser-based simplicity. Its convenient integration with popular social networking sites makes it more valuable. I'd like to see some future interface tweaks, contextual help files, and performance improvements. But for now, it's an impressive debut.
[Jackie Dove is Macworld's senior reviews editor.]
[Updated 4/4/08, 8:41 p.m. PT to clarify a statement about how Photoshop Express works with the browser's Back button.]