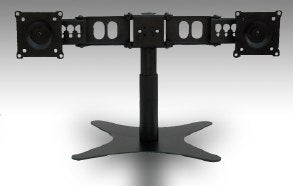 DoubleSight Displays is offering the same stands it uses in its multi-monitor display systems as standalone products. The company is now offering dual-monitor and triple-monitor stands.
The DoubleSight Flex Stands feature jointed horizontal mounting arms, and are height, tilt and swivel-adjustable. The mounts work with VESA-compatible displays, and can independently pivot to support portrait viewing modes. The right-hand mounting arms can also rotate 180 degrees, so you can share the display with someone sitting near you.
DoubleSight now manufactures a dual-monitor stand suitable for 19-inch LCD displays, and another suitable for displays up to 24 inches. A third unit — a triple-display mount — works with LCD screens up to 19 inches wide.
Prices range from $199 to $299.