It's sad but true: few of us are completely in control of our schedules. We can painstakingly structure our days in iCal, but our spouses, coworkers, and children will undoubtedly ask us to rejigger everything for dinner parties, client meetings, and soccer games. It makes a lot more sense to embrace the fact that we share our time with others.
The version of iCal included with OS X 10.5 (Leopard)—version 3—has some surprisingly powerful features for managing group schedules—whether you're trying to organize a family or a large business. You can now check other people's availability when you're choosing a meeting time, create calendars that more than one person can edit, schedule locations and resources, and access the same calendar from multiple computers (no more syncing headaches!) without using Apple's .Mac service ($100 per year;).
Most of these features require a CalDAV server (CalDAV is an open standard for accessing a calendar via WebDAV). If you, or your company, already have Mac OS X 10.5 Server ( ; ten-client edition, $499) running on a server with its own domain name, setting up CalDAV is fairly easy. Even if you don't have a server, you can take advantage of some group features on your local network by installing a copy of BusyMac's $20-per-computer BusySync on each person's Mac. This software supports multiuser editing and synchronization without requiring .Mac, and it runs on both Leopard and Tiger. Whatever your situation, you can make group scheduling easier with iCal.
Server-free calendar sharing
If you subscribe to Apple's .Mac, you've long been able to publish an iCal calendar that other people can view on their computers. Just click on the calendar and select Calendar: Publish. The trouble is, this method is a one-way street—people can subscribe to these calendars but can't alter them.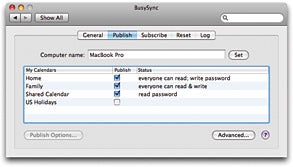 If this is your main problem, you don't need to set up a calendar server to solve it. BusySync replaces (or supplements) this publish-and-subscribe mechanism, allowing multiple users to edit a calendar over a local network (see "Flexible Sharing"). With some manual configuration, this can also work over the Internet. The $25-per-computer BusySync 2.0 (which should be available by the time you read this) will also let you synchronize iCal with Google Calendar, giving you a way to edit any of your calendars via the Web (a feature .Mac doesn't offer).
Get Set Up To set up BusySync, open its pane in System Preferences. If necessary, click on the Start BusySync button in the General tab. Click on the Publish tab to see a list of all your calendars. Select one and then choose the Publish option to share it. In the sheet that appears, leave both fields blank to give everyone read and write access, or enter a password in the Read Only Password or Read & Write Password field.
On another computer, open the BusySync preference pane, click on the Subscribe tab, select each shared calendar you want to access, and then enter the appropriate passwords if prompted. The calendars will appear right away in iCal's calendar list. When one person makes a change to a shared calendar, the new information is synchronized to other users' calendars, so each person's local calendar always has a complete, up-to-date schedule that they can access even if the computer sharing the calendar goes offline.
Avoid .Mac Conflicts You can use BusySync together with .Mac Sync, but if everyone in your family shares one .Mac user name, using both methods at the same time can result in duplicated calendar data. You can avoid this either by making sure each person uses a separate .Mac user name or by turning off .Mac Sync for Calendars (in the .Mac preference pane's Sync tab).
Set up your full-service calendar
If you run a business, you may need sophisticated features that BusySync doesn't have. If that's the case, you'll want to use all of iCal's new group-scheduling features by connecting to a CalDAV server. After your CalDAV server is in order, each person in your group must configure iCal to access it.
Don't Forget Directory Services If you're using OS X Server, the first thing you need to do is turn on your computer's Open Directory support. Open Directory Utility (/Applications/Utilities). If your server is already listed there, with the message "The server is responding normally," you're set. Otherwise, an assistant should appear and walk you through the setup. Select a server (if more than one appears); click on the Begin Setup button; enter the user name and password for your account on the server, as well as the password for the account on your local computer; and click on Continue.
In the next screen, leave the Yes Configure My Applications option selected and click on Finish Setup. Open Directory Utility will set up Open Directory and attempt to configure iCal to use the account's calendar on the server. Click on Log Out; then log back in normally to begin using Open Directory. (This step is unnecessary if you're using Darwin Calendar Server as described in the instructions in "Set up a free CalDAV server".)
Connect to the Server In iCal, choose iCal: Preferences and click on the Accounts button in the toolbar. If your shared account doesn't already appear in this list, click on the plus-sign (+) button at the bottom of the window. In the Description field, enter a name for the server, such as CalDAV. Fill in the user name and password that your server's administrator gave you.
If you're using Darwin Calendar Server, also click on the triangle next to Server Options; then enter the server's IP address or domain name, a colon, and the server's port number in the Account URL field (for example, 192.168.0.11:8008). Users of OS X Server can generally skip this step.
Now click on Add, and if you see a warning about sending your password insecurely, click on Connect Anyway. iCal will connect to the CalDAV server and add your calendar(s) to a new section in its calendar list. If your group uses a shared calendar that everyone has the same password for, repeat these steps to add an account for it.
Decide How Often to Update After adding an account, select the account in the Preferences window and click on Account Information. Select how often you want iCal to check the server for changes—the default is 15 minutes. Also use the controls in the Availability section to indicate which hours you're normally free for meetings. This will help other people schedule events that include you.
Make Small Tweaks Initially, iCal lists a single calendar (with the name calendar) for each account. You can add more calendars by choosing File: New Calendar: CalDAV (or whatever your server name is). To rename a calendar, double-click on its name and type a new one. Select a calendar and choose File: Get Info to change its color or add a description; these changes will be reflected on any other Mac that logs into the same account.
Take advantage of your calendar server's features
CalDAV does more than store everyone's calendars in one location; it also offers several collaboration features and lets you set different levels of access.
Check Group Members' Availability With CalDAV, there's no need to shuffle multiple e-mails back and forth to figure out when everyone can come to a meeting—you can see what times are free as you create the event.
First create a new event by clicking on the group calendar in the Calendars column and pressing Command-N. Select any time and date, and then click on Add Attendees. If you're using OS X Server, type the first few letters of another user's name; then select the name you want from the pop-up menu and type a comma to accept it (repeating as necessary for additional participants). If you're using Darwin Calendar Server, type the e-mail address of another participant as designated on the server.
Press the tab key and click on the Available Meeting Times link (or choose Window: Availability Panel). A floating window that lists each selected participant will appear. Times outlined with a dotted line are free; gray blocks indicate times when a person has some other event scheduled (see "Find a Good Time"). Drag the colored block representing the time designated for your meeting to the desired spot to schedule your meeting for that time.

You can click on Next Available Time to automatically select the next time when all participants are available, or use the arrow buttons to navigate to other days. Click on Done to close the Availability window, and then click on Send to send invitations.
Manage Notifications iCal notifies the members of your group whenever you invite them to a meeting. A number next to the calendar name alerts each person to invitations or messages about cancelled events. Notifications themselves appear in the lower left corner of the window; if they're not visible, click on the Hide/Show Notifications button (shown with an envelope icon).
When you receive an invitation, click on Maybe, Decline, or Accept to indicate whether you'll attend. When you double-click on an event you organized, a small icon next to each invitee's name indicates that person's response. An orange question mark means Maybe, a red slash means Decline, a green check mark means Accept, and a gray question mark means no response has been received yet (see "See Who's Coming").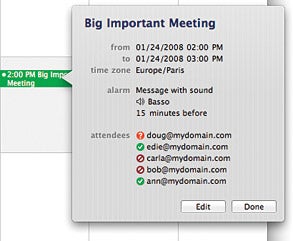 Delegate and Collaborate Suppose you have an assistant who manages your schedule, or a colleague who's handling some of your upcoming appointments while you're out of the office. CalDAV supports delegation, a system whereby you can grant any user on your network access to your calendar.
Use this feature by choosing iCal: Preferences, selecting your CalDAV account, and clicking on Delegation. If other people have given you permission to read or edit their calendars, those people's names will appear in the list. Select the Show option next to a name to display that person's calendars in iCal. They will appear in a new calendar group called Delegates.
To give someone permission to see your calendars, click on Edit, click on the plus-sign button, enter the first few letters of the person's name, and then select that name in the pop-up menu. To allow editing, select the Allow Write option. Then click on Done.
iCal can access this feature only when the CalDAV server uses Open Directory to manage users—which OS X Server does, but the Darwin Calendar Server setup does not. Even so, multiple people can see and edit the same calendar if they all set up an account in iCal for a shared calendar and then use the same user name and password to access it. If you follow this approach, choose iCal: Preferences, click on Accounts, select the account for your shared calendar, and click on the Account Information tab. Set the Refresh Calendars interval here to update frequently to reduce the chance that two updates to the same event will overlap.
[Joe Kissell is the senior editor of TidBits and the author of numerous e-books about Mac OS X.]