3Dconnexion on Tuesday introduced the SpaceNavigator for Notebooks, a new version of its "3D mouse" designed specifically for laptop users. It costs $129.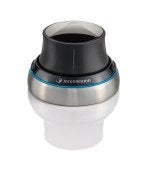 The SpaceNavigator is a USB peripheral that helps users manipulate 3D content by lifting, pressing and turning the control cap to zoom and rotate using very small adjustments. The device is speed-adjustable and incorporates two programmable function buttons.
The SpaceNavigator works with more than 120 3D applications on Mac OS X and Windows platforms. Mac software supported by the device includes Adobe Photoshop CS3 Extended, Maya, Google Earth, Sketchup, SolidWorks and more.
The SpaceNavigator for Notebooks is a compact, mobile design better suited for laptops. It measures 1.81 x 2.68 inches and weighs 0.55 lbs, while the full-sized model measures 2.17 x 2.99 inches and weighs 1.06 lbs. A travel case is also included. 3Dconnexion continues to manufacture the full-sized unit for desktop use.
System requirements call for a 1GHz G4 or faster, 512MB RAM and Mac OS X v10.4.6 or later.