In many respects, CTM Development's PowerMail 5.6.3 lags the Mac e-mail pack. It's missing key security features and its interface lacks elegance. But if you often find yourself searching your e-mail for a particular message, you'll appreciate PowerMail's potent search tools.
PowerMail covers the e-mail basics more than adequately; it's easy to set up new accounts and send and read mail. PowerMail can handle both POP and IMAP accounts, and can also import old mail from .mbox e-mail files, the format that mail programs often use to export messages. The software can sync contacts with Apple's Address Book, but this capability isn't on by default. Instead, you have to dig through PowerMail's preferences to turn it on.
PowerMail lacks some features that would give it more polish to compete with rivals like Apple's Mail ( ). There's no warning for users attempting to open attachments that could contain executable code (though that protection is planned for the forthcoming version 6), and no support for any kind of encryption. CTM Development says encryption would complicate the program's search capabilities, but they may add it in future versions if users request it. PowerMail also lacks searchable OS X help files, instead linking users to an online manual and a Web page of FAQs. Integrated help files are planned for a future version of the program.
PowerMail comes from a small team of programmers; unfortunately, that shows in the program's interface. The boxy windows and somewhat crude icons seem stuck halfway between Mac OS 9 and OS X. PowerMail is clear and mostly easy to use, but lacks the visual aesthetics of rivals like GyazMail ( ).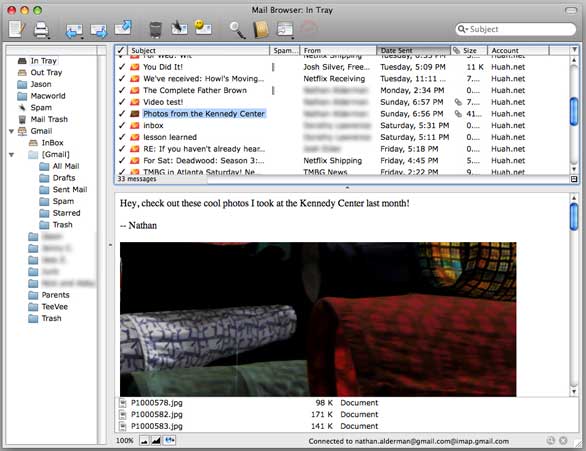 I was particularly frustrated by PowerMail's insistence that I click on the name of a mail message or mailbox to open it, rather than clicking anywhere in that element's row, as other mail programs allow. The programmers say they are following Finder conventions, but are considering letting users toggle this feature in the forthcoming PowerMail 6. I was also tripped up by PowerMail's use of the command-delete keyboard shortcut to trash messages; according to the developers, it's designed to prevent accidental deletions.
PowerMail does offer flawless spam-blocking—but only if you're using C-Command's outstanding SpamSieve ( ), Intego's Personal AntiSpam X5 ($50), or another spam-blocking utility (CTM offers a bundle deal with SpamSieve for a discounted price). PowerMail lacks the built-in spam filters Apple Mail and other rivals offer, which can learn to recognize and block most junk mail; its only built-in, automatic defenses against spam consist of a filter to block all incoming HTML messages by default, and the ability to filter messages according to flags that might be set by spam-blocking software on the user's mail server. In practice, neither measure kept spam messages out of my inbox.
You can add extra spam protection by creating custom filters to watch for offending words or headers. PowerMail's manual offers helpful suggestions of criteria to watch for in establishing filters. New filters are easy to set up, and they worked well at routing messages to their intended destinations.
PowerMail's excellent search features, which are based on CTM's FoxTrot technology, are a definite high point. In my tests, the program found a specific and accurate set of messages in less than a second, even in a 10,000-plus-message mailbox accessed over an IMAP connection. (In contrast, Apple Mail took 5 seconds to provide full results for a similar search in a local folder with less than 800 messages.) FoxTrot supports wildcard searching with asterisks, unlike Apple Mail's Spotlight-powered search. PowerMail messages are also thoughtfully available for Spotlight searches performed in the Finder. However, the search box in PowerMail's main window doesn't work as well as the one accessible via its Find command. The main window only lets you search the From, To, or Subject fields, not the entire message body.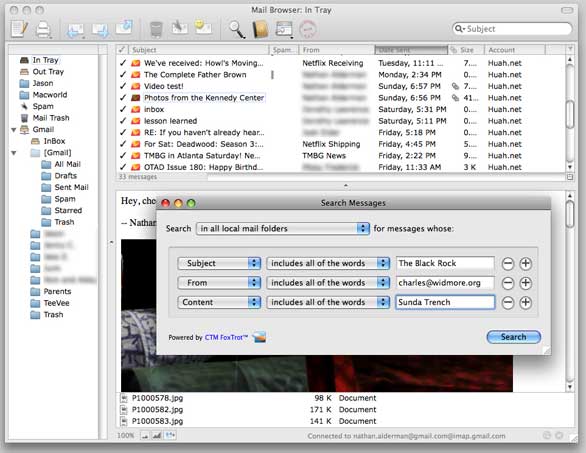 Macworld's buying advice
If you need a fast, accurate way to pore through reams of e-mails, PowerMail's superb searching could be a life-saver. But for everyday use, the current version's unpolished interface and otherwise limited features can't quite justify its relatively high price tag (according to CTM, anyone who buys PowerMail after March 31, 2008, will be able to upgrade to version 6 upon its release later this Spring).
[Nathan Alderman is a writer and copy editor in Alexandria, Virginia.]