We all know the story. Steve Jobs created the Mac, and preached it more as a romantic lifestyle, a noble way of being, than as simple new technology. He transformed the computer from a boring business tool to a sleek and sexy consumer appliance. He saved Apple when things looked their bleakest. He conceived the iPod, a device that some argue single-handedly pushed the music industry into the modern world. He made the iPhone, perhaps the first cell phone that is truly smart.
What we don't know is how this one man could do so much. In his new book, Inside Steve's Brain (Portfolio, 2008), however, Leander Kahney attempts to go beyond the obvious by offering a detailed, concept-oriented, blow-by-blow look at Apple CEO and what makes him tick—his history, his ideas, his ideals, his reasoning, his behavior, his relationships, even his footwear choices.
Kahney's the right person for the job, too: He has an extensive history covering Apple and Steve Jobs since the early 1990's, has written two previous books on the company, and has been running Wired's Cult of Mac blog for ages.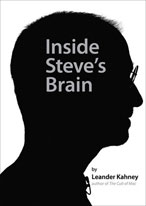 And Kahney doesn't hide the fact that he's the author. He often speaks from firsthand knowledge or insight, and writes about Jobs's actions and thoughts as if Jobs himself told him what to write—which, of course, brings some skepticism about Kahney's credibility. But the more you read, the more things seem to make sense, the more trusting you become of Kahney, and the easier it is to start embracing the words on the page instead of worrying about the author's validity.
Kahney's method of analyzing Jobs is pretty effective: He mentions tons of tiny, often-overlooked events in Jobs's life, as well as relatively miniscule quirky behaviors and actions that demonstrate Jobs's unique character. How Jobs went on an all-apple diet when he was young to see if he could avoid having to shower, for example, or how he spent two weeks debating with his family about which washing machine they were going to buy.
The book also reveals some interesting nuggets about the origins and elements of Apple products—to figure out how to make the personal computer a packaged, consumer device, for example, Kahney describes how Jobs went to a department store to gain inspiration from other household appliances (like the Cuisinart). Then there's the original Mac's mouse, which Jobs designed to reflect the dimensions of the Mac itself—a detail many never noticed.
Inside Steve's Brain goes beyond Steve, too. The book dives into the creative mind of Jonathan Ive, Apple's brilliant chief industrial designer, and examines the corporate cultures of Apple and Pixar, and how both are able to output innovation and creativity in a near-unprecedented manner.
That's not to say every word in the book is a revelation. It's insightful, sure, but some sections are loosely packed, periodically regurgitating observations and conclusions mentioned in previous paragraphs and chapters. There's a lot of exploration in the abstract, and a lot of unnecessary quote-elaboration.
Yet the overall content—the stories and interviews and quotes—and Kahney's insight in general make Inside Steve's Brain a worthwhile and informative read for most anybody looking to learn more about Jobs. It's a quick and easy read, too: Kahney writes in simple prose, and his explanations are clear and concise.
[Dan Pourhadi is a frequent blogger for MacUser.]