MCE Technologies on Tuesday announced its QuickStream SS, a solid state version of its portable drive for Firewire DV and HDV capture. It will be available in 2-hour and 4-hour versions for $1799 and $2799, respectively, when it ships later this month.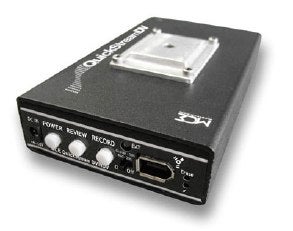 MCE's QuickStream drives are intended for videographers who want to record video over FireWire direct to hard drive rather than using digital tape — a faster way of grabbing video that you can transfer to digital video editing systems. It measures 3 x 5 x 1 inches and weighs 10.5 ounces.
Up to now, QuickStream devices have incorporated standard hard disk drive mechanisms. The QuickStream SS is the first that uses a Solid State Drive (SSD) instead. Video recorded on the device is stored in MPEG-2 Transport Stream (.m2t) format. It's compatible with Mac OS X v10.2 or later and various versions of Windows.
The QuickStream SS contains no moving parts and was designed to be rugged and impervious to jolts, vibrations or sudden motion that can destroy a hard drive, according to MCE. It can be mounted anywhere using standard screw sockets and uses a fraction of the power required by a hard drive.
The QuickStream SS is compatible with all Mac and PC-based video editing applications including Final Cut Pro, Adobe Premiere Pro, Avid, iMovie HD and other applications. It can display recorded footage directly on the DV camcorder's LCD display. Support for HDV playback is expected soon in a firmware update.
MCE includes a four-pin to 6-pin interface and a 6-pin to 6-pin FireWire cable, hot shoe adapter, universal AC adapter and documentation.