Leveraging Adobe Interactive Runtime (AIR), Adobe Media Player is a cross-platform compatible media delivery option for user who want to watch video online and, in some cases, download them. Here's a look at what to expect.
Installing Adobe Media Player (AMP) is a painless affair, if you've ever run an AIR application. Adobe relies on its own installation technology to manage AMP's installation, which requires you to give it permission to load up. Once that's done you'll be looking at the main AMP interface, which is a stylish black. The application resides in your Applications folder along with everything else.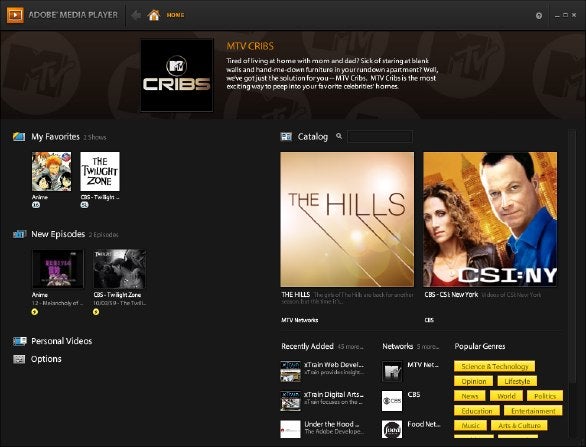 Like all AIR applications, AMP leverages Adobe's Flash technology in order to work. The software also supports Digital Rights Management (DRM) technology, and can restrict you to just watching videos as opposed to downloading them and viewing them offline — the content provider has control over that, at a legend of icons lets you know what you can do with the content you're viewing.
That means that at least in the case of content whose provider wants it so, you're able — for the first time, I should add — to download video outside the browser in the Flash format. Adobe said the content can scale from 480i up to 1080p, so HDTV fans will be able to get their fill of high definition material.
So far, Adobe has signed up major broadcasters and content publishers to provide video material for AMP users. CBS has jumped into the fray with its CSI shows and a bevy of archive material for example, while MTV Networks is offering The Hills. PBS has some good stuff available for viewing, along with Universal Music Group and others. Adobe said that more content is coming soon from Comedy Central, Spike and other broadcasters in the coming months.
You can mark content that's of specific interest for you. I found some anime that I wanted to watch, along with archives of classic Twilight Zone episodes, so I marked them both. Favorites appear when you first fire up AMP.
While the emphasis here is on free content, there ain't no such this as a free lunch, as the saying goes. Adobe is working with content owners and publishers to generate advertising opportunities and targeted marketing campaigns based around AMP. The software itself measures content usage, and Adobe provides options such as "protected" streaming, DRM and advertising protection (to keep users from arbitrarily blocking ads).
And for what it's worth, AMP also lets you keep track of "personal videos" you've created yourself. If you have video content on your own machine you'd like to manage using AMP, that option is open to you.
My experience with a pre-release version of AMP was that it works, although the actual quality of video, even after manipulating the software's options, left a little to be desired. You can either watch a small streaming view or scale it upward to fill the window or even your entire screen.
The software offers intuitive navigation that lets you explore to find the content you want. Its archive of video from the Technology, Entertainment, Design (TED) event, for example, offered detailed synopses of each segment as well as an overview of what the event was about. It was pretty simple to understand how to find what I wanted to watch.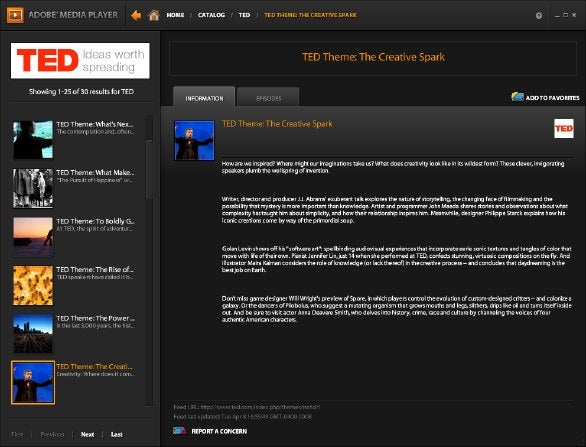 You can "drill down" by recently added content, view by network, click on genre buttons to help explore particular types of video you'd like to watch. The catalog window also lets you search using words or phrases.
All told, AMP is an interesting way for Adobe to leverage Flash video away from its "traditional" place on Web pages. The technology works reasonably well on the Mac. For now, there's a relative paucity of compelling content, and nothing unique to AIR to make it a "must have" product. If Adobe's able to convince content providers that this is the way to share their material with the public, then AMP could be an important player in the burgeoning digital video delivery market. And the fact that it's cross-platform compatible is a boon for Mac users, who won't be left out of the mix.