The return of spring heralds one thing above all others: the ability to go back outdoors, into the frigid wastes laid barren by the apocalyptic war mankind raged against what they told us were encroaching space aliens. Somehow, I can never quite get up the wherewithal to visit said wastes—I'm not quite sure what to do with all that terrifying open space.
Instead, I think I'll stay tucked safe within my hardened bunker, deep beneath the surface of the Earth. Maybe someday I'll venture outside, after I take the time to drag out the old biohazard suit—suppose I'll have to find one for Ernesto, too. Do you think they make biohazard suits in penguin sizes? What size is a penguin, come to think of it?
Anyway, should you be braver than I and venture out into the Overworld, you might find yourself a bit at loose ends. Fortunately, we've assembled for you this collection of gadgets that should make your outdoor experience worthwhile. Just remember to watch out for the mutated troglodytes, okay?
Paint the town red (or blue, or yellow)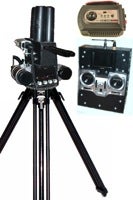 I've never engaged in paintball—a pre-apocalyptic form of non-lethal (and thus non-fun competition). But if you are going to play, you don't just want to win, you want to annihilate your competition, right? So why bother sticking with the standard handheld paintball gun when you could have a remote-controlled paintball turret?
Evolution Model Technology's Paintball Sentry Turret is the last word in pigment-based warfare. The standard $1,960 wireless model comes with a dual-barrel, dual-feed assembly, capable of 350° rotation and 90° of tilt. The onboard color CCTV camera has a 2mm lens with Auto White Balancing and a 2.4GHz long range transmitter, which lets you watch (and control) the action from the included custom controller, which has its own 3.5" LCD screen. A 400 round hopper ensures that you'll have plenty of ammo to take on your enemies, and the two 20 oz CO2 tanks will keep you ready to fight.
If that's not enough for you, then you could look into adding a high-res camera, VR goggles, and night or thermal vision for an additional outlay. Or, if the wireless model is too fancy-schmancy for you, then you could trade down to the wired model, which has a 25 foot control cable for just $1400. But don't come crying to me when the creatures that roam the Overworld chew through that cable, leaving you helpless and alone.
[via Gizmodo]
Have a ball (or two, or three)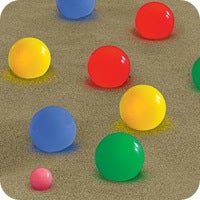 Bocce: the sport of kings. No? Princes? Marquises? Well, it's my sport, anyway. Back before the ravaged wastes were all that was left of the Earth's surface, I enjoyed a good game of "proximity bowling" (as we called it) on a sunny afternoon.
But what if you couldn't play on a sunny afternoon? What if you wanted to play at night? Or what if, as turned out to be far more likely, the sun was perpetually hidden behind a thick cloud of nuclear ash? Oh no, such petty obstacles would be no match for the devoted bocce player. Just arm yourself with this set of LED bocce balls.
For the meager sum of $100, you get eight colored balls (two each in red, blue, green, and yellow, and one white target ball—each implanted with their own glowing LED. The balls remain limit for 3 minutes at a time; the perfect length for a quick round of speed bocce. It even includes the required batteries and a wooden storage case, just in the eventuality you need to make a quick getaway before the deadly rain of acid begins to fall.
[via DVICE]
One fish, two fish (red fish, radioactive fish)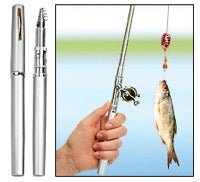 Back before the seas boiled, there were animals who lived in it called "fish." Sometimes, for fun, people would catch these animals and eat them. It was a cruel, cruel world. Perhaps it is just as well that these poor creatures no longer exist. Especially now that somebody has managed to turn one of those devious fish-catching devices into something that looks as innocuous as a writing implement.
This 8-inch contraption (which once upon a time would have gone for about $50) contains a collapsible four-foot fishing pole, complete with miniaturized reel for hauling in your catch. Made from aluminum, the rod is strong but flexible, and also includes fishing line with a 2.5kg breaking-strain, a line brake and fastener, and a triple hook and spinner (whatever that means; a shame all those anglers died in the Razortooth Guppy Incident of 2043).
Anyway, I wouldn't particularly suggest fishing as a hobby, but if you find yourself stuck on the surface with no way to survive, and only a miniature pen fishing rod at hand, then, best of luck to you, friend.
[via Coolest Gadgets]
Well, it's time to sign off now. Our monitors tell us a terrible dirt storm has kicked up outside, covering half the continent. Perhaps I'll stay inside this year. That way I can be sure I'll see you next week.