At a Glance
Expert's Rating
Our Verdict
There's one truism in the MP3 player market: people buy iPods in part because they're sexy. So it's self-defeating to protect your 'Pod with a case that hides its sleek, stunning exterior behind a bland, wallet-like shell. Enter clear-plastic cases, designed to be relatively durable and incredibly revealing, leaving nothing to the imagination. In this week's case roundup, we take a look at four transparent transportables that will show off your iPod in all its iconic glory.
Contour Design iSee Classic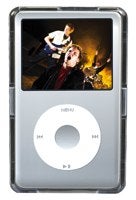 If you want the bare basics, Contour Design's $30 iSee Classic ( ) is…an option. It's a simple plastic (polycarbonate) two-piece shell that hugs the iPod, protecting its exterior from scratches and mild impacts. It comes with two different back panels to fit both the 80GB and 160GB Classic models, and a clear plastic belt clip that snaps on the back and holds the iPod horizontally in either direction. As with most of the clear cases we've seen, the iPod's screen is protected by the shell but the Click Wheel is exposed, protected only by a bezeled border.
The iSee Classic is a simple product for simple use; it's okay for it was designed to do, but there are a few things that make it Second Choice material: It feels a little flimsy, and its plastic is relatively clumsy and flexible for a "protective" shell; despite that, the boxy, square-edge design makes it feel unnecessarily clumsy. The plastic also scratches easily—as in fingernail-easily. Finally, the case is difficult to open for removing your iPod.
Fits: 80GB and 160GB iPod classic
XtremeMac Microshield
XtremeMac's $20 Microshield ( ) is even more barebones than the iSee: No belt clip, no extraneous curves or physical features—just two simple, smooth-plastic panels that protect your iPod from short drops and scratchy car keys. Like the iSee, the Microshield comes with back panels for both the 80GB and 160GB Classic models; unlike the iSee, it also includes a stick-on plastic film to protect your iPod's Click Wheel.
The Microshield's front panel is a straight piece of plastic that fits into the back panel to snap together, which gives it a more snug, less bulky appearance that's more natural to hold. Unfortunately, this sleeker, more simplistic design means a little less durability—don't be surprised if a small drop pops the front panel right off. Overall, though, the Microshield is sturdy, pleasing to the eye, and feels right in the hand. What it lacks in tough durability, it more than makes up for in sleekness and elegance-it's protective against scratches and bumps…and stylish.
Fits: 80GB and 160GB iPod classic
Saunders RhinoSkin HardCase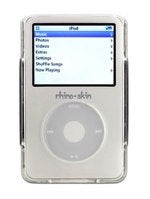 Simple is nice, but Saunders' $35 RhinoSkin HardCase ( ) is for people who want more than just clear, molded plastic. Unlike the other cases here, the HardCase doesn't enclose the iPod between two plastic panels. Instead, it features a clear-polycarbonate front that leaves the Click Wheel exposed, and an aluminum back with plastic grips on the left and right sides. Your iPod slides down through the case's open top. The case includes a rotating, plastic belt clip that secures to a removable metal screw on the back, as well as a lanyard for people who like to wear things around their necks. Also included in the package is a StuffBak sticker that offers a reward to anyone who finds and returns your iPod if you lose it.
Because aluminum is involved, the HardCase is slightly heavier and bulkier than the others here (including the iSee), and the exposed top means the iPod isn't totally secure within the shell—it's a tight fit, but a good bump will cause the player to slip out a bit, leaving the Click Wheel misaligned with the front opening. That aside, the HardCase is a solid alternative to all-plastic shells for users looking for a heftier case with a little extra protection.
Fits: versions for 80GB and 160GB iPod classic
Pacific Rim Quartz Case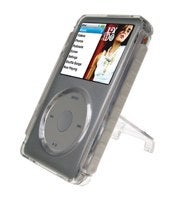 Pacific Rim's $15 Quartz Case ( ) is, like the iSee and Microshield, made of clear polycarbonate. The front and back panels are held together by two thick, white sliding locks—one on each side of the case—that add unnecessary bulk. The case doesn't have a belt clip like the iSee or the HardCase, and it isn't contorted nicely to the iPod's sleek form like the Microshield.
On the other hand, the Quartz Case is rugged and sturdy, and it has a nifty plastic flap that snaps out from the back to keep your iPod upright for video-viewing—a nice alternative to holding your arm out in front of you for an hour and a half. This feature alone will make the Quartz Case worth the paltry $15 price tag for some; the minor problems mentioned above may be non-issues if you're looking for a case with a stand.
Fits: versions for 80GB and 160GB iPod Classic, fifth-generation (5G) iPod