You're accustomed to reading First Looks from the Macworld gang—hands-on peeks at our first spin through products we eventually review. Today I'm offering a First Listen, a cocked ear at a product that I'm learning to love. That product is JoeSoft's $50 Hear.
Hear, as described on the back of the box, "…utilizes the hardware already in your computer and combines that with state of the art DSP programming to give you additional bass, spatialization, 3D surround and various other real-time enhancements of any sound played through your Mac."
In short: It's a big ol' package of computer-audio trickery.
Hear is made up of a variety of modules, each of which can be individually switched on or off. They include:
General: Easy access to controls for bass, ambience (reverb), fidelity (a simple EQ filter effect), plus switches for enabling or disabling other effects.
EQ: 10-band EQ that you can view as sliders or draggable curves.
Mixer: Allows you to control the output volume of your currently running applications. This is a nice solution when you're listening to music or watching a movie and don't want background applications screaming at you with alerts.
3D: Much like SRS Labs' Wow effects, the 3D effect spreads the sound from your speakers to provide a broader sound-stage.
Ambience: Reverb.
FX: Another 3D effect that not only appears to spread the sound, but allows you to draw it more or less into the center of the stereo field.
Maximizer: An effect found in many sound reinforcement rigs. Emphasizes and more clearly defines highs and lows.
BW: According to the packaging, this effect generates brain waves targeted at relaxation. Uh, okay. What it seems to do is reduce the volume and add some light phasing to the sound.
Limiter: An effect that limits volume peaks.
Space: More 3D trickery. Normal setting gives you some spread. Wide really spreads the sound.
Fidelity: As I said before, a frequency filter.
Speaker: An effect for reducing bass resonance, boosting mid-range, inverting phase, and flipping the stereo channels.
Sub: Controls for mucking with bass frequencies.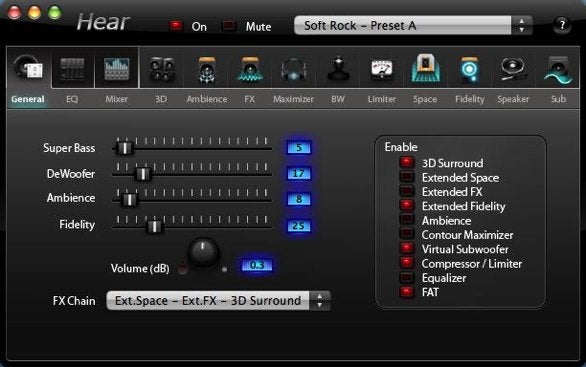 Given the number of effects and the few sliders each has for controlling it, it's possible to create some really gnarly audio. Fortunately Hear includes a variety of presets—combinations of effects—organized by genre. For example, the Dance entry offers Dance, Pumping, and Trance variations. Once you've found a preset you like, you can tweak the effects to your liking and then save your work as its own preset. I've been through the presets and, weak as it makes me sound, I really like Soft Rock—Preset A. It nicely spreads and brightens the sound from my old Monsoon Satellite/Sub computer speakers.
Some will object to the existence of a product like this that doesn't respect the "pure sound" of the original recording. Of course, some people would also die before sullying a cup of coffee with milk and sugar. At the risk of venturing into the editorial, I might suggest that recorded music, by its very nature, is artificial. Decisions about its make-up are influenced by the artists, engineers, and producers who helped create it; the space in which it was recorded; the quality of your audio system; the volume it's listened to; the acoustics of the room where you listen to it; and the countless ancestors whose combined genetic characteristics provided the ears and audio acuity you were born with.
In other words, it seems everything else in the world is allowed to influence the end product. Why object to the listener having a stab at it too? That said, if you count yourself among the easily audio offended, this is not the product for you.
I like it and have quickly become accustomed to having it on whenever I listen to music from my computer. Switch it off and suddenly the music sounds flat and confined. Artificial? You bet! Pleasing? To me, absolutely.
Stay tuned for the full review.