NetBlender has introduced a Software Development Kit (SDK) that enables the iPhone and iPod touch to communicate with Blu-ray Disc players. They call it BD Touch.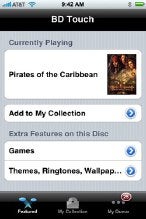 The SDK works with all Blu-Ray Disc players that are compatible with a technology called BD Live. That includes models from Philips, Samsung, Sony and others, including Sony's PlayStation 3.
Paired with Blu-ray Disc authoring software — such as NetBlender's Windows-only DoStudio — BD Touch enables the iPhone to interact with content on Blu-ray Discs, using a Wi-Fi connection to the player.
BD Touch applications can use geolocation, the iPhone's motion sensors and keyboard input, and video, audio, text and player commands can be transferred — so the iPod touch and iPhone can act as a remote control for a Blu-ray Disc player, for example.
NetBlender has highlighted potential implementations of BD Touch, such as the ability to push digital copies of a movie to an iPhone, or automatic cataloging of a Blu-ray Disc collection, updating and managing a rental queue, displaying additional information and trivia about a movie, turning existing Blu-ray Discs into games that use the iPhone as a controller and viewing fan-created content in sync with the disc.