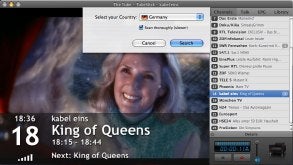 Equinux on Thursday announced the release of The Tube 2.6, an update to its DVR software for Mac OS X. The Tube is bundled with Equinux's TubeStick TV interface for the Mac, which lets you tune in to DVB-T broadcasts (offered in many countries in Europe). The Tube bundled with the TubeStick costs 39.95 euros.
The Tube lets you watch, pause and timeshift television recordings. You can also schedule future recordings using built-in Electronic Program Guides (EPGs). TubeToGo is a new service for The Tube users that lets you stream video content from your Mac over the Web to watch using your iPhone, iPod touch or other devices.
New to the 2.6 release is a reworked EPG system. You can now choose between different plug-ins and you can automatically update TV information imported from alternate EPG services in the "XMLTV" format.
The update is free for registered users.