I've mentioned before in this space my appreciation for compact backpacks. I like my laptop carrying case to pack as many compartments into as little real estate as possible. So when Dan Frakes, Macworld's resident Bag Boss, suggested I take a gander at Skooba Design's Skooba Shuttle laptop backpack , I wasn't sure he had the right man for the job. Put quite simply, the Skooba Shuttle is huge. It dwarfs the last backpack I reviewed for Macworld—the Solo Convertible laptop backpack—looming over the Solo backpack like a hockey goon ready to pummel some 98-pound weakling. I'm not just engaging in hyperbole there—the Skooba Shuttle is 19.5 inches tall, 14 inches long, and 9 inches deep. Contrast that with the Solo's 12-by-15.25-by-6-inch dimensions, and you'll see that it's fair to suggest the Shuttle is a little bit on the large side.
But in some ways, size can be deceiving. When I slipped the Shuttle onto my back, I expected to look like a sherpa ready to lead an expedition up K2. I was surprised to discover the Shuttle snuggled quite comfortably against my back, a result I attribute to its light 53-ounce weight and clever design that includes such well-thought-out touches as padded shoulder straps. The Shuttle distributes weight wisely, too—in one torture test, I loaded down the backpack with my laptop, a USB microphone, a fairly full three-ring binder, a sweatshirt, and a bag lunch, and I didn't feel any strain on my shoulders.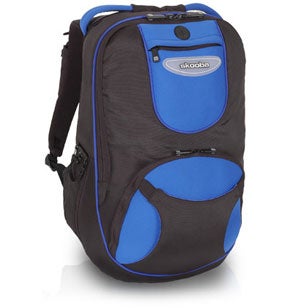 The Shuttle boasts some 15 pockets and compartments—some of them mesh pouches, others zippered containers—for stashing all sorts of gear. The centerpiece is a well-padded 16.5-by-11.75-by-3-inch laptop pouch, which Skooba claims can hold most 17-inch laptops. It certainly secured my 15-inch MacBook Pro without any problems.
Other pouches vary in size for holding everything from pens to business cards to assorted electronica. A zippered compartment on the top of the Shuttle's back contains a headphone exit port—obviously aimed at storing your iPod or iPhone. For my part, I prefer to use the iPod-sized compartment on the left shoulder strap—it may not have a dedicated headphone port, but I can keep an eye on my portable device when it's in that compartment. Storing it in the rear would seem to leave it vulnerable to pilfering on a crowded subway.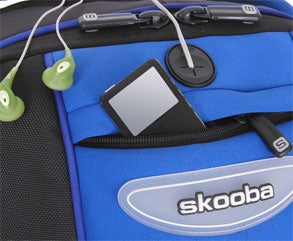 With its bright colors—the Shuttle comes in black-and-blue, gray-and-orange, and olive-and-red combinations—and sizable storage space, this backpack seems ideal for students. There's plenty of room for carrying a laptop, books, a mobile phone, MP3 player, notepad, pens, and anything else you care to haul across campus. A mesh pouch on the right side pops out to hold a water bottle in case you get parched walking or biking from Point A to Point B. And I can't stress enough how comfortable the Shuttle feels, even when you weigh it down with lots of cargo.
That said, I'm not sure it's the best choice for going to and from the office. There's really not a good compartment for storing paperwork, apart from maybe stashing it alongside your laptop. I had a manilla folder full of papers situated in the main compartment, and in less than 24 hours, they became bent and wrinkled from jostling about with the other gear stored in the Shuttle. Backpacks with dedicated sleeves for papers and documents don't suffer from this drawback.
I mentioned earlier that size can be deceiving in some cases. One of those cases where it isn't deceiving is on board an airplane. I took the Shuttle on a cross-country flight and had a great deal of difficulty storing it under seat in front of me; I was able to wedge the backpack in there, but at the cost of giving up any extra legroom for the five-hour flight. You can stash the backpack in the overhead bin, I suppose, but that deprives you of easy access to your laptop.
While on the subject of size, I should note that I went to a San Francisco Giants ballgame the other night and was unable to take the Shuttle into AT&T Park—that's because the Shuttle is larger than the 16-by-16-by-8-inch limit permitted at the stadium. A cursory check of other baseball teams' Web sites indicates that those restrictions are fairly consistent at all Major League stadiums, so if you like taking a backpack to venues like that, the Shuttle is not your best choice.
Ultimately, the size of the Skooba Shuttle prevents it from being the right backpack for me. But that doesn't mean it isn't the right one for you, particularly if you value storage space, comfort, and durability over compactness.
The Skooba Shuttle laptop backpack sells for $140, though as I type this, the Skooba Web site lists a sale price of $115.