The quickest way to find a CD in a pile of jewel cases is by looking for its familiar cover. Similarly, you can use Cover Flow in iTunes to scroll through your songs and albums, and iOS devices let you flick through your music in Cover Flow view with your fingertip. Album art is both useful and decorative; it's much nicer to see your music with cover art than the boring, default gray musical note graphic. Here's how to find, add and work with album art in iTunes.
Find album art
To hunt down album art for tracks you've ripped yourself, you can employ one of several methods. The easiest way is to have iTunes do it for you (you'll need to set up an iTunes Store account if you don't already have one). As you rip a CD, you can have iTunes check the iTunes Store for album art. To do this automatically, select Automatically Download Missing Album Artwork in the General pane of iTunes' preferences. After you finish ripping an album, iTunes will then connect to the iTunes Store and, if it finds the artwork, download it and add it to your library (note that this works only if the iTunes Store sells the album).
Even if the Store offers the album you're looking for, the tags iTunes downloads from the Internet for a CD you've ripped yourself may not exactly match the artist, album name, and song names of tracks in the iTunes Store. So if iTunes can't find the art for an album you know it sells, check how the album is listed in the Store, correct your tags, select the tracks in iTunes, right- or control-click on them, and choose Get Album Art. iTunes will then check the Store again. You can do this anytime for music that doesn't have album art.
[Note: To make it easier to add artwork, you might want to sort your music so you can find all the tracks that are missing art. On his excellent Website, Doug Adams has an AppleScript called Tracks Without Artwork To Playlist 3.3 (payment requested) that can create a playlist of these tracks for you.]
If iTunes can't provide the album art you want, the best way to add it is to copy graphics from Websites. You can use many image formats, such as JPEG, TIFF, PNG, and GIF, and you can add album art to all kinds of music files—with the exception of WAV files—and to videos and movies. You can also change album art in protected files, with the exception of audiobooks from Audible.com.
A good place to start searching for album art is Amazon.com, which has cover graphics for most of the albums it sells. Find the product page for an album, and you'll see an image of its cover. You can save this image or, in some cases, you can click on it to see a larger version. Small images are generally 300 by 300 pixels, which is large enough to display well on an iPod classic or nano. Large images are usually 500 by 500 pixels, but they sometimes have white borders that you may want to crop.
You can also find album art on other retail Websites— CD Universe, for example, has large graphics at 450 by 450 pixels, with no white borders. If you're a member of eMusic, this site has album art at 600 by 600 pixels. The sites of artists or labels often include album covers as well. And you can do a Google image search, where you can narrow down the results by image size and then follow your chosen image to the Website that hosts it.
In some cases, you may not find any album art that corresponds to your music: the disc may be too old or too obscure, and some live recordings and other downloaded music simply don't have covers. If you have a physical CD, you can scan its liner notes and add the resulting image. For live music, you could use a photo of the band or performer pulled from a Website.
Some software can simplify the art-searching process. Equinux's $40 CoverScout 3 ( ) can handle the heavy lifting and present you with a number of choices from various web sites. TuneUp Media's $20-a-year or $30-a-lifetime TuneUp ( ) displays as a sidebar next to your iTunes window, and can find album art, as well as performing other functions to clean up your iTunes library. And Cloudbrain's $39 TidySongs offers a similar feature set. Whichever of these programs you choose, you can save a huge mount of time compared to manually searching if you have a lot of songs without album art. However, if you get used to adding album art to your music, you'll get into the habit of first checking the usual locations: iTunes and band or label sites.
Keep size in mind
As I mentioned, you'll find album art in many different sizes—the size you choose depends on how you plan to use the art. In iTunes, the smallest Cover Flow view scales art to 200 by 200 pixels, though you can expand the Cover Flow pane and get images that, on a 27-inch screen, are as large as 1030 pixels. So if you plan to use Cover Flow a lot, you'll probably want large album art: for the best quality in scaling, and flexibility across a variety of devices, I recommend using the largest you can find, up to 600 by 600 (the iTunes Store supplies album art at this size). On the iPod touch and the iPhone, with the new retina displays, images this size look excellent. On the iPod classic they max out at around 100 pixels square, and the iPod nano offers a 240 by 240 pixel screen. So depending on where you view your album art, you may want to take into account these sizes.
If you scan your own images, 600 by 600 pixels is a good choice. Even if you only view it on a portable device, with the new Retina displays, images look crisper in sizes like this. No matter what size you choose, though, you want to make sure the images don't take up too much disk space because album art inflates the overall file size of your tracks—if you add a 1MB image to every song in a dozen-track album, that's 12MB added to your library, taking up space on your iOS device and on your Mac. So check the file sizes of your images, and, if necessary, reduce them in a graphics tool by adjusting the compression. If your originals are TIFFs or BMPs, save them as JPGs, and you'll save a lot of space.
Add artwork to your files
Once you've found the artwork, you can add it to your files. For single files, the easiest way to add artwork is to select a file in iTunes, press Command-I to get its information, and click on the Artwork tab. Either drag a file into the artwork box, or paste a file that you have copied from, say, a Web page. Click on OK to save the art. You can even add multiple graphics in this box; just drag an additional graphic into the box before or after the current one, or click outside any existing graphic to make sure it's not highlighted and then paste in the extra graphic.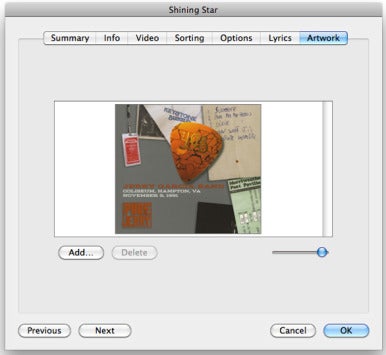 For multiple files, select the ones to which you want to add album art and then press Command-I. This time, you'll see the Multiple Item Information window. Drag or paste art into the Artwork box, and then click on OK to save it. Note that this action replaces any single or multiple graphics you may have added to the selected files, so this is an easy way to make sure that you have consistent artwork for an entire album.
When you download album art from the iTunes Store, iTunes doesn't add the graphics to your files, but rather it puts them in a central folder on your computer. You can view the graphics in iTunes, and they will accompany your songs to your iPod, but these images aren't portable; if you copy a track to another computer, it won't have the album art. To get around this, select a track, then Get Info. Click on the Artwork tab, then click the album art to select it, and then copy it. Close the Info window, select all the tracks of the album, and paste the copied image as above. This will embed the art in the files, rather than keeping them separate.
Another way to add or view artwork for any file is through iTunes' Artwork Viewer. To see it, select View: Show Artwork or click on the last of the four buttons in iTunes' lower left corner (if the top of the Artwork Viewer says Now Playing, click on that text to change it to Selected Item). If the selected tracks in iTunes have album art, the viewer will display it—if not, it will say Drag Album Artwork Here. Drag graphics to this section to add them to the selected files. If you already have artwork in your files and you drag art there, it gets added to, but doesn't replace, the existing artwork. If selected files have more than one graphic, you'll see small arrows on either side of Selected Item that you can use to scroll backward or forward through multiple images. And if you click on an image in the viewer, it will open up in its own window at a large size. If it's in "Now Playing" mode, you can hover your pointer over the window to view playback controls. You can use this "artwork player" to control iTunes. (See the first image in the story.)
For video files, you can set a poster frame for almost any video you've imported. This is a specific frame from the video that you want to display as artwork. To do so, play the video until you find the frame you want to use and then pause it. Control-click on the video and choose Set Poster Frame.
Pretty pictures
While it can be time-consuming to add artwork to your library if many of your tracks are missing it, once you get your library up to date, it's easy to add artwork for each new album you get. And you'll find that your iTunes library, and your iOS devices, look a lot nicer too. And if you're really creative, you can even try creating your own cover art.
[Senior contributor Kirk McElhearn writes about more than just Macs on his blog Kirkville. Twitter: @mcelhearn Kirk's latest book is Take Control of iTunes 10: The FAQ.]