If you're ever in a situation where you need a high quality version of an OS X application icon—for use in a presentation, review of a program, or other such use—it can be a bit of a chore to get that icon. The usual method, which I call the "find the icon file in the haystack" game, goes like this. Control-click on the program in question, select Show Package Contents from the pop-up menu, then navigate into Contents -> Resources. Inside that folder, somewhere, you should find a file whose name ends in .icns. Open that in Preview, and there are the icons.
The problem with this approach is that there can be hundreds of files in the Resources folder, and the naming of the .icns file isn't necessarily logical, so it can take a bit of digging—or help from Spotlight—to find the file.
It turns out that there's a much simpler—though completely non-obvious—way to get a full set of an application's icons, at least if you're running OS X 10.4 or 10.5. In the Finder, select the program in question, and press Command-C (or if you love menus, select Edit -> Copy). You've now got a full copy of the application on your clipboard. (Don't believe me? Press Command-V after switching to another folder in the Finder—if you're going to do this, I suggest copying a small program, and not something like the 337MB iWeb.)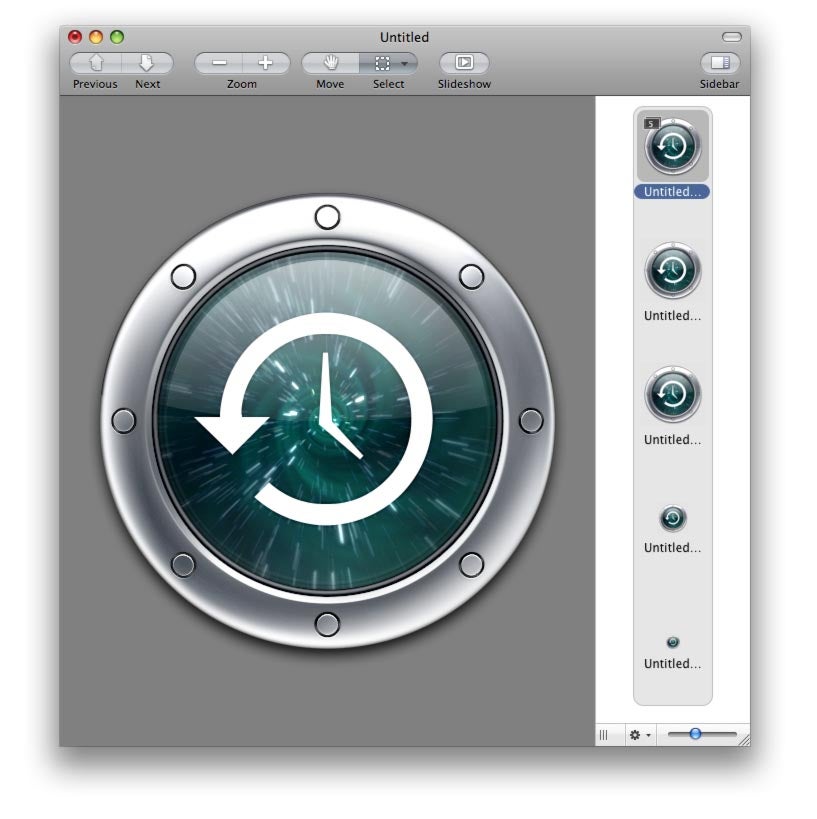 Now launch Preview, and press Command-N (File -> New from Clipboard for you menu users). You may be surprised at the result: a full copy of the chosen application's icons, in every available size. For instance, the image at right (click it for a full-size version) is what you'll see if you copy Time Machine and paste it into Preview. (If you're running 10.4, you won't see the massive 512-by-512 pixel icons; 10.4 icons were limited to 128-by-128 pixels.)
In Preview's sidebar, you can then click the desired icon size, and then use File -> Save As to save it to your drive in a format of your choice. (If you want to retain the transparency, you'll need to use PNG or TIFF as the file type.) This trick worked with every application I tested it with. You can also use it to get document icons for things like Excel spreadsheets, Word documents, etc. If you try it with a PDF, though, you'll find that Preview will actually paste in the entire PDF, not its icon.
If you do much work with images of OS X applications and documents, then this trick is a great timesaver. Even if you don't, though, it's a nifty way to check out the details in some of the amazing 512-by-512 icons you'll find in OS X 10.5.