The first portable computer based on Intel's Centrino Atom chip package is coming in June, although it will be bigger and more expensive than such devices were expected to be.
Sharp will manufacture the D4 ultramobile PC for Japanese mobile operator Willcom, which will sell it to new customers for ¥39,800 (US$395) with a two-year service plan costing ¥2,100 per month, taking the total cost to ¥90,200. The plan includes unlimited data. Willcom will not sell the D4 without the network service.
Intel launched Centrino Atom at the Intel Developer Forum in Shanghai, but only showed prototypes of portable computers based on the new chips. However, Intel executives promised 20 such devices are in the works and will ship soon. The Willcom D4 announced Monday appears to be among those devices.
Centrino Atom was developed for small, pocketable devices based on Linux that Intel calls mobile Internet devices, or MIDs. These devices were expected to be priced starting from US$500, according to Intel.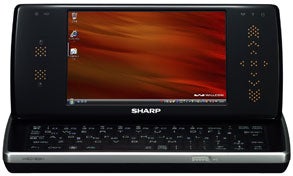 Measuring 84 millimeters by 192 mm by 26 mm and weighing 470 grams, the D4 is easily portable but not pocketable.
To make it easier to make and receive calls on the D4, Willcom will offer a smaller phone handset as an option. The handset will connect to the D4 via Bluetooth, will have a regular phone keypad and small display. It will work as a voice handset while the D4 is kept in a bag or on a nearby table.
Unlike other prototypes that have been shown, the D4 is the first Centrino Atom device with a release date. The computer has a 1.33GHz Atom processor, a 5-inch widescreen display, 1G byte of RAM, a 40G-byte hard disk, 2-megapixel camera, and includes support for Willcom's PHS (Personal Handyphone System) data network, as well as Wi-Fi and Bluetooth. It has a slide-out 64-key keyboard and a monitor that tilts up slightly, making it easier to read when typing on a flat surface.
The D4 runs Windows Vista Home Premium, instead of a mobile version of Linux. It also comes with Microsoft Office Personal 2007 with PowerPoint 2007.
It will be targeted at business users and students, although Willcom also hopes it will appeal to more general consumers, said Masaki Kikugawa, president of Willcom.
One area of focus will be personal navigation. Japan's IO Data announced on Monday plans to offer a GPS (Global Positioning System) receiver for the D4 while two of the country's largest navigation and mapping service companies, MapFan and Navitime, said they will offer applications for the D4.
Willcom is Japan's number four mobile telephone service operator and provides a nationwide network based on the PHS technology that was developed in Japan. The carrier has managed to carve out a niche for itself as a leader in mobile data and was first in Japan with both a Windows Mobile smartphone and unlimited data for PCs and PDAs. Willcom claims a 69 percent share of the smartphone market in Japan.