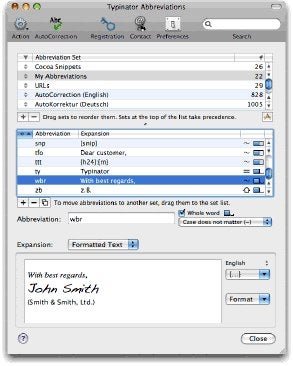 Ergonis Software on Monday announced the release of Typinator 3.0, a new version of their auto-typing tool for Mac OS X. It costs 19.99 euros, and upgrades from previous releases are free for anyone who bought Typinator within the past two years.
Typinator will automatically type text and automatically correct typos on the fly. It works across all Mac OS X applications. It detects specific sequences of characters you type and automatically replaces them with text "snippets," graphics, URLs, dates and special characters.
The 3.0 version now operates as a background process — it's "dockless," so it now operates unobtrusively without any user intervention. A menu bar icon gives you full access to Typinator's main window interface. A new search feature has been added that lets you instantly view snippets that contain your search query. Other improvements have also been made.
Typinator 3.0 requires Mac OS X v10.4 or later.