At a Glance
Expert's Rating
Our Verdict
USB power adapter for iPod and iPhone
Apple stopped including a power adapter with each iPod a while ago (though Apple includes an adapter with the iPhone), and as battery life shortens over time, it's handy to have a power adapter at work or in the car. In this roundup, I tested three third-party power adapters for your iPod or iPhone. Griffin's PowerBlock and Incase's 2-in-1 Wall & Car Charger both participate in Apple's Made for iPod and Made for iPhone licensing programs. PDO's PowerTwo doesn't participate in Apple's licensing programs; PDO says it's currently compatible with the iPod classic, older full-size dockable iPods, iPod nano models, and the iPod mini.
Griffin PowerBlock
If you need an iPod or iPhone USB Power Adapter, you can spend $30 on another Apple USB Power Adapter. Or, if you're interested in giving your hard-earned cash to a company other than Apple, you can consider Griffin's $30 PowerBlock ( ).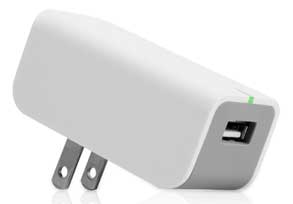 The PowerBlock is your basic power adapter that comes with a USB dock-connector cable (like the one included with your iPod). An LED indicator shines amber while your device charges, and turns green when charging is done. The PowerBlock measures 1.25-by-2.63-by-1.13 inches; you can flip it upside-down and plug it into a top wall outlet, leaving the bottom outlet unblocked.
The PowerBlock's prongs can fold away when not in use, a nice touch. One very good reason why you might opt for the Apple adapter instead of Griffin's: The PowerBlock lacks the removable prongs that the Apple adapter has for Apples World Travel Adapter Kit ($40) or, if you have a MacBook, the power extension cord that comes with the laptop.
If you're not a world traveler and just need a power adapter for home or work, the PowerBlock does the job adequately. Though at this price, there's no compelling reason why you should opt for the PowerBlock over Apple's adapter—or an adapter that offers more value for your money, such as PDO's PowerTwo.
Incase 2-in-1 Wall & Car Charger
Incase's $40 2-in-1 Wall & Car Charger ( ) works with both wall power outlets and car 12-volt outlets (a.k.a. the cigarette lighter). The base of the device has foldaway prongs for wall outlets, while the 12-volt plug extends away from the base. There's a white indicator light to tell you the 2-in-1 is plugged in, but it doesn't tell if you if your iPod is charged.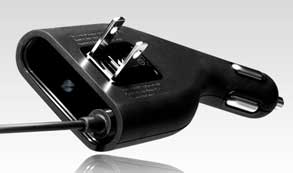 The 2-in-1 measures 2.19-by-5.00-by-.88 inches. When plugged into a vertical power strip, the 2-in-1 is long enough to block the two outlets below the one it's using, so you'll want to use the bottom outlet. When plugged into a power strip with a horizontal layout, the 2-in-1 encroaches on any adjacent outlets; if your power strip has outlets for wide power bricks, the 2-in-1 will need to use one of those.
Fortunately, the base of the 2-in-1 didn't get in the way of plugging into the 12-volt socket in my 1994 Ford Explorer, which has the 12-volt socket recessed inside the front dashboard's ash tray. This design can make it difficult to plug in 12-volt devices, and the 2-in-1 fit without a problem.
The 30-prong iPod connector and cable are permanently attached to the 2-in-1. Had Incase decided to go with a removable USB cable, then that cable could have also been used to connect your iPod to your Mac. Instead, you have to pack both the 2-in-1 and a USB dock-connector cable when traveling.
Despite its size, the 2-in-1 is a nice power adapter, and its ability to do double duty can be quite helpful if you use your iPod frequently on the road.
PDO PowerTwo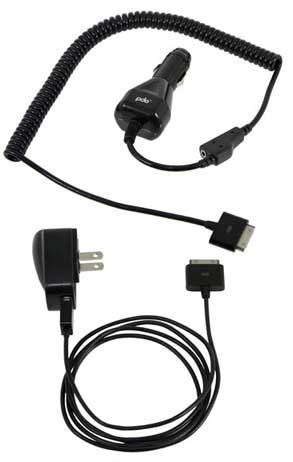 For $30, PDO's PowerTwo ( ) includes two separate charging devices: a 12-volt charger that you can use in a car, and a wall adapter. The version I tested is compatible only with the iPod classic, iPod nano, and previous versions of those two iPods. According to a PDO representative, the PowerTwo isn't compatible with the iPod touch and iPhone because those two devices have different power requirements. (PDO clearly lists its compatibility list on the PDO Web site.) PDO says that an updated version that's compatible with all iPods and the iPhone will be released in "one to two month's time."
The 12-volt charger has a permanently-attached coiled cable. The cable has a 3.5mm audio-out jack so you can plug in a cassette adapter or auxiliary cable to your car stereo, or you can even connect headphones and listen to your iPod. The audio through this jack sounded just like the audio from the iPod's headphone jack, but it's not as loud. When the iPod is at full volume, audio through the 12-volt adapter's jack sounds at about 80 percent when compared to the volume coming from the iPod's headphone jack.
The 12-volt charger has a LED to tell you that the adapter is receiving power, but it doesn't indicate when the iPod is fully charged. I was able to easily plug the 12-volt adapter into the recessed 12-volt socket of my 1994 Ford Explorer.
The wall adapter looks a lot like Sonnet's USB Wall Charger for iPod ($20). It's small enough (1.50-by-2.00-by-1.25 inches) to fit in a pocket, but it will block any outlets below it in a vertical arrangement on a power strip or wall outlet (if you flip it upside down and plug it into the top wall outlet, the bottom outlet is unobstructed).
The wall adapter includes a removable USB dock-connector cable that can be used to sync your iPod with your Mac. Like the 12-volt adapter, there's an LED to tell you that the adapter is getting power, but it's not an indicator LED to tell you when your iPod is charged. You can fold in the prongs when you're not using the wall adapter.
The 2-in-1's adapters don't offer any special features, but they do the job, and they come at an attractive price—you get two adapters for the price of a single Apple iPod USB Power Adapter. You can leave the 12-volt charger in your car, and the wall adapter is small enough to carry with you.
[Roman Loyola is a Macworld senior editor.]