Movable Type and TypePad developer Six Apart on Wednesday will introduce a new blogging tool for users of Facebook social networking site. The free application, dubbed Blog It, will allow people to post to their blogs directly from within the Facebook interface.
While it could have made the Blog It application just for its own blogging platforms, Six Apart took the tool a step further and is supporting all major blogging systems. Blog It will work with nearly a dozen services including Blogger, TypePad, Twitter, Movable Type, Vox, and WordPress.
When a new blog post is made, a summary is automatically included in the Facebook newsfeed. Six Apart recognized that people are using more services than just Facebook, so users can choose to automatically share the post via Twitter and Pownce, as well. Blog It automatically includes a Tiny URL for the Twitter posts.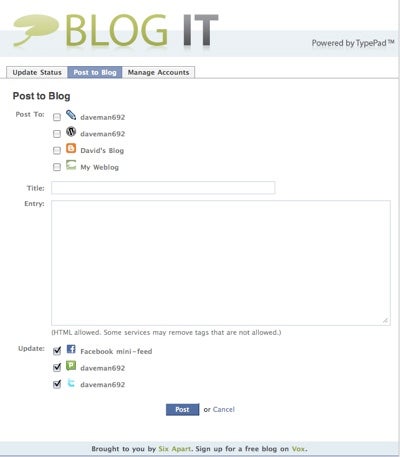 "Blog It is one of the few applications that takes content created inside Facebook and makes it available for use outside Facebook," said David Recordon, Open Platforms Tech Lead at Six Apart. "Blog It users are able to update their personal blogs, business blogs, online journals, Facebook status, or Twitter or Pownce activity all from one central environment. This is a concrete step away from the silos and walled gardens of the past and toward the open web of the future."
For now Blog It is a manual application, but Recordon said that Six Apart is looking at ways to have the application better integrated into Facebook. For instance, if you are viewing a photo in Facebook, there may be a way to blog about that directly with a couple of clicks.