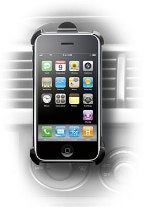 Digital Lifestyle Outfitters (DLO) has introduced the VentMount, a new case for the iPhone and iPod touch that affixes the device to the dashboard of your car using the dashboard's vents.
The VentMount rotates horizontally and vertically, and provides access to the side controls and the dock connector. It also operates as a belt clip when it's removed from your automobile. And it can function as a locking desktop stand so you can view videos using the device on any flat surface.
The VentMount costs $24.99.