Sanyo has announced two new portable LCD multimedia projectors for the education and business markets, the PLC-ET30L and the PLC-XT21/L. The PLC-ET30L is priced at $6,495 and the PLC-XT/21L is priced starting at $4,495 (both prices do not include lenses).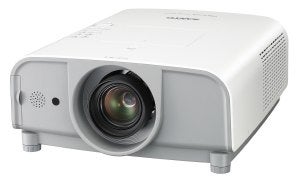 The PLC-ET30L sports 1400 x 1050 resolution and 10-bit digital gamma correction, projecting at 4200 lumens brightness and 1300:1 contrast. The PLC-XT21/L sports 1024 x 768 resolution and 4000 lumens brightness, with 1000:1 contrast.
The projectors are designed to work in environments where ambient light is inevitable, such as conference rooms and educational facilities. They can be custom-configured with special lenses to suit specific staging requirements. Each comes with a fan that outputs at 35 dBA and a filtration system that cools the projector using a single intake and exhaust vent; it also will provide a filter warning when it gets clogged. Both are also equipped with Sanyo's "PJ Network" interface, that enables them to be operated by remote via a Web browser using an optional networking module.
Both projectors feature a built-in mono speaker with 1 watt of power, a D-sub 15 pin input, DVI-D, RGB, component and composite video inputs, and S-Video inputs, a D-sub output, USB, and remote jack.
Sanyo expects to ship both new models this month.