No Thirst Software has released MoneyWell 1.3, an update to their personal finance software for Mac OS X. MoneyWell costs $39.99 and the upgrade is free for registered users.
MoneyWell helps you track accounts and transactions in a single-window interface. Features include "Buckets" that track your income and expenses, a clickable cash flow graph and detailed information on each transaction.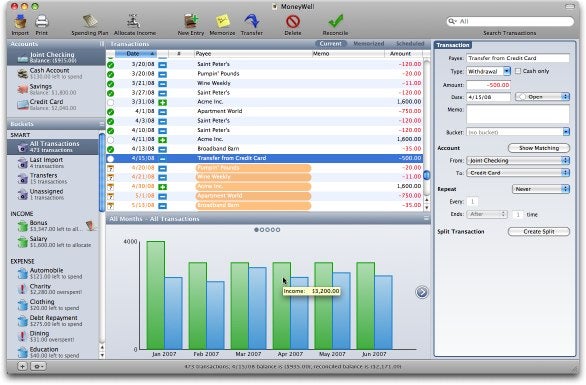 New features in MoneyWell 1.3 include the ability to manage scheduled transactions, multiple currency support with user-defined exchange rates, four new reports, more detailed cash flow graphs, improved intelligence to allocate include, and better duplicate matching when importing OFX and QIF data.
Other improvements include drag-and-drop account sequencing, new "smart bucket" to view the last imported transactions, improved reconcile using "smart date," grouping of income buckets, new context menus for accounts, buckets and transactions and much more. No Thirst counts two dozen new features all together in this release.
System requirements call for Mac OS X v10.4 or later and 6.9MB hard disk space. A trial version is available for download.