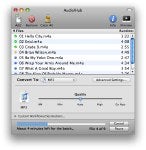 Techspansion, makers of the VisualHub digital movie conversion software for Mac OS X, have spun their particular brand of magic on AudialHub, a new Mac OS X application that does the same for audio tracks. It costs $18.81 and a demo is available.
AudialHub converts audio files—including the audio inside video files—and works with dozens of formats like AAC, MP3, WMA, AIFF, WAV and many others. Commonly used metadata tags that identify artist, album, track name and other information are retained.
The software also features editing capabilities—you can trim audio down to short segments, queue multiple files, change formats mid-conversion, pause and resume, and more. The software supports the Growl notification system, gives you an idea of how far along you are with a Dock progress indicator, and supports AppleScriptable.
System requirements call for Mac OS X v10.4.11 or later.