Life is inherently dangerous. I learned this one day as I came within a hairsbreadth of tumbling headfirst down my staircase. Since then, I've decided to be careful. Very careful. When I get up in the morning, the first thing I do is strap on all my protective padding, slap a pair of protective goggles on, and then not leave my room. It's a safe, if lonely life.
But it's not without its benefits. My concerns for safety have inspired me to pass on my knowledge and research to you, dear readers. So this week, we have three ways for you to protect yourself from the manifold risk and dangers that this existence brings with it.
The heady smell of brilliance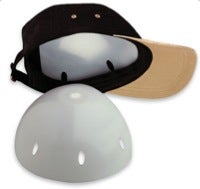 This is unadulterated genius. I've been immortalized before in my headwear of choice, but let me assure you: it's not just a matter of fashion. Er, well, okay, it's not really a matter of fashion, at all. But it's function that's paramount here. Baseball caps are great at keeping your head dry, and their brim helps keep the sun out of your eyes. Also, should you ever need to headbutt someone, you are automatically at an advantage.
On the other hand, as they're usually made of cloth or canvas, the baseball cap doesn't really provide much protection against blunt force trauma. Fortunately, that's where this Protective Insert comes in. The plastic half-sphere slips into the baseball cap of your choice and not only protects against whacking your head, but also makes you the envy of every Conehead on your street.
All that for the unbeatable price of £4.95 (~$10). Now that's using your head.
[via Red Ferret]
Well I love hate that dirty water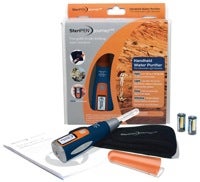 Water. It's pretty much the source of everything in this world: Life. Rain. Fish. Parasites. You know, the usual. Just because life sprang from the oceanic depths, don't think that it won't take it away again like that.
While the $129 SteriPEN JourneyLCD may, sadly, not have anything to do with '80s power-ballad band, it will keep you nice and healthy by letting you sterilize suspect water with the magic of ultraviolet light. Just flip it on and stir the container, which can be anywhere be 1/2 liter and a full liter, and the LCD will tell you when it's safe to drink (half a liter only takes about 48 seconds to clean). A pair of included CR123 batteries are good for about 10,000 cycles, which SteriPEN says can handle a liter a day for four years.
I'm extra suspicious about my water—you never know when someone may have it in for you—so I like to pour my Poland Springs into my Brita, stir it up with a SteriPEN and microwave to boiling. And I'd just like to point out that I'm still alive. Your mileage may vary.
[via Gearlog]
Will it shred?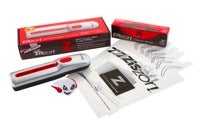 Your health isn't the only thing you need to protect these days. Seems like everybody and their dog are at risk for identity theft, so if you want to keep your credit report clean (and plenty of money in your bank account), you need to be destroying every document you have with sensitive information on it. All of them. No exceptions.
Shredders can help with that process, but they're often big and bulky, taking up valuable under-desk real estate. The $50 Ziszor! solves that problem by turning the shredder into a handheld unit. Just ten inches long and weighing under 1.5 lbs, the Ziszor! is powered by 4 AA batteries and can shred up to five sheets of paper at a time. And so the resulting scraps won't make a mess all over your floor, it comes with three attachable plastic bags (you can buy more bags at $3.29 for a bag of fifty).
Then, to insure security, take those shreds and burn them. Security, sorted.
[via Coolest Gadgets]
I hope you feel thoroughly safer now. I got a shredder over Christmas, and I can't stop feeding things—anything and everything—through it: I've now lost two plane tickets, about thirty dollars, and a grilled cheese sandwich. Which, before you ask, makes a terrible mess.
Hopefully I'll have it cleaned up and shredding good as new by the next time we meet. By my calendar, that's seven days from now. Consider yourselves warned.