Cynical Peak Software on Wednesday announced the release of Rivet, a new Mac OS X utility that helps you stream digital media content from a Mac to a Microsoft Xbox 360 video game console. Rivet costs $18.95; a limited demo is available.
Similar in concept to Nullriver's Connect360 software, Rivet lets you stream videos, music and photos from a host Macintosh to a networked Xbox 360 video game console.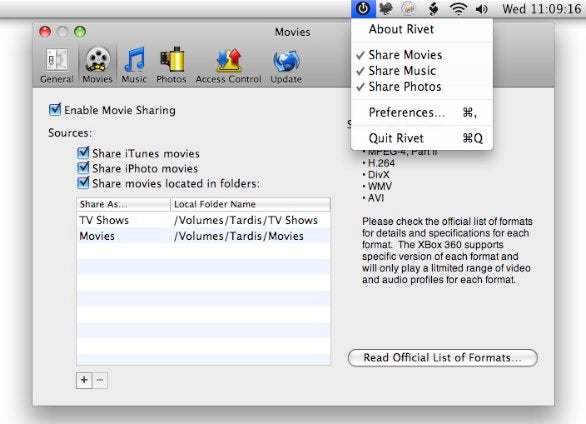 Features include the ability to stream music from your iTunes library and movies from user-defined folders (unprotected files, of course) and streaming of iPhoto library images and images from folders your specify.
You can organize movie and photo folders into subfolders by TV show, genre or however you'd like to make content more module. It supports a variety of formats including AAC, MP3, WMA, H.262, DIVX, AVI, WMV, JPEG, GIF, TIFF, RAW, PSD, PDF and others.
System requirements call for Mac OS X v10.5 "Leopard", 2.7MB hard disk space and a networked Xbox 360. iTunes is required for music sharing.