BusyMac on Friday began offering BusySync 2.0, an update to its iCal synchronization software. The new 2.0 release is a free update for 1.x users; BusySync costs $24.95 per computer (with a $5 discount available through April).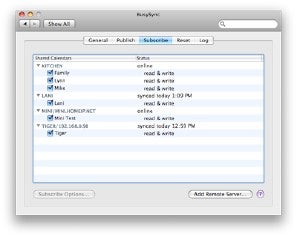 BusySync enables Macs to synchronize iCal calendars over a Local Area Network (LAN) or the Internet. The new 2.0 version extends calendar sharing to Google Calendar, which provides BusySync users with the ability to access calendars from any Web-based computer.
BusySync does away with the need for a dedicated calendar server, and enables small workgroups and families to share calendar information with each other. The Google Calendar synchronization is bidirectional — any changes you make in Google will be reflected on your calendar back on your Mac. This also allows you to synchronize your calendar with a work machine, using Google Calendars instead of Apple's .Mac service.
This marks the "final" 2.0 release. The software has been in public beta testing since the beginning of March.
BusySync is installed as a Mac OS X System Preference pane. It works with Mac OS X v10.4 or later.