At a Glance
Expert's Rating
Pros
Good value
Painless setup
Thoughtful industrial design
Cons
No Bonjour support
Basic security approach may be inadequate for some environments
No Web-based configuration tools
Our Verdict
DroboShare, a companion product to the Drobo USB storage system ( ), extends Drobo's protected and expandable storage to other computers on the same network. Just as Drobo deftly shields the user from the technical details of RAID (Redundant Array of Inexpensive Disks), DroboShare aims to keep things simple by eschewing the more complex—but more secure—granular access controls found in traditional NAS (Networked Attached Storage) products. But DroboShare's simple shared password approach to security—which is also its only approach to security— requires a leap of faith that people using the server won't inadvertently delete files that they shouldn't.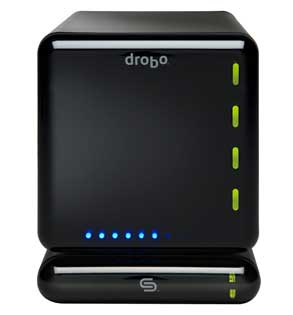 Looking more like a pedestal than a peripheral, DroboShare sits beneath the Drobo drive chassis, with the feet of the Drobo fitting snugly into matching divots in the DroboShare's top. Twin USB ports allow two Drobos to be shared among computers on the same 10/100/1000 Ethernet network. Rather than saddle you with yet another external power adapter, DroboShare thoughtfully includes a splitter cable that lets you share the power connection between Drobo and DroboShare. A short USB cable is included for the data connection between the two.
Although DroboShare purports to have built-in smarts for autoconfiguring itself on networks that use DHCP, our network (with manually configured IP addresses) required some additional steps to get things working. These included temporarily isolating the DroboShare and the test CPU on the same Ethernet network so that the Drobo Dashboard software could find the DroboShare, allowing it to be configured with a static IP address. In addition to DHCP, DroboShare also has support for SMB.
Two setup features common to other NAS products and network printers—but lacking in DroboShare—are support for Apple's Bonjour (OS X's built-in network protocol for finding services on a network), and configuration via a Web page. Instead, DroboShare relies on the Drobo Desktop utility for locating the DroboShare and allowing configuration. Inconveniently, this means that you can't configure DroboShare from any computer on the network; your computer must have the Drobo Desktop utility software.
Macworld's buying advice
If you already have a Drobo, and you find yourself shuffling it between different computers in your office, DroboShare will painlessly solve your woes. Although its authentication controls are basic, they're adequate enough to serve the needs of Drobo's intended audience: non-techies who just want to get the job done. If you aren't currently a Drobo user and you're exploring your options for shared storage, Drobo and DroboShare together make for a compelling combo. Other traditional NAS products have more bells and whistles, but Drobo and DroboShare get the nod for no-fuss, expandable, and protected storage.
[Jeffy Milstead is a former Macworld lab analyst and a writer living in San Francisco.]