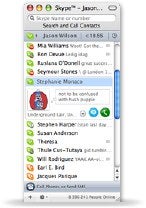 Voice over IP (VoIP) service provider Skype has announced a new calling plan that enables users to make unlimited calls in the United States and Canada for $2.95 per month.
The plan allows Skype users to make unlimited numbers of calls to landlines and cell phones in the U.S. and Canada (although the service's fair use policy technically limits users to 10,000 calling minutes per month).
The $2.95 per month fee nets you a voicemail account. You must pay an additional fee if you want to accept inbound calls, however Skype provides a discount of up to $30 for an online number that lets people call you from a regular phone. Provisional coverage is also provided for Skype To Go, which lets you dial a special access number to use worldwide to get special Skype rates.
Skype lets you call, video chat or text message other users on the Mac, PC, Linux and some smartphone systems. The free service lets you make Skype-to-Skype calls at no charge.