I have a few items today tiny enough that they don't merit the Big Treatment, but are nevertheless worthy of your attention. We begin with:
Complete My Album
No clue how long this has been going on, but iTunes' Complete My Album—the feature where you're allowed to purchase the remaining bits of an album at a discount if you've already purchased single tracks from it—has been better incorporated into the Store.
In the past you'd travel to the Store's main page, click the Complete My Album entry in the Quick Links section, and take a gander at the albums iTunes was willing to fill in for you. Today I happened to click on the just-released Flight of the Conchords album and there was a Complete My Album entry accompanied by a Buy button and a See Previously Purchased Songs link. I clicked that link and, sure enough, iTunes informed me that I'd previously purchased Business Time (but then, haven't we all?).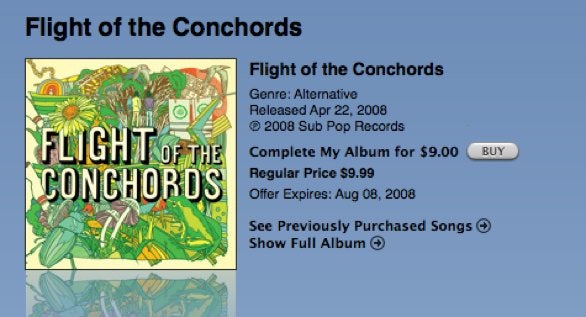 For just $9 I can have the rest of the album. Or, if I cared to fire up my browser, I could have the entire album—with yet another copy of Business Time—for $8.99 at Amazon MP3.
Free iTunes track promotion at Ticketmaster
The next time you drop the equivalent of a mortgage payment on a standing-room-only concert ticket for a performer who hasn't had a hit since the Carter Administration, you can walk away with something other than the feeling that, in these uncertain economic times, perhaps your hard-earned money could have been more wisely spent. That "something other" is Ticketmaster's "gift" of a free track from the iTunes Store. Yep, for every concert ticket you purchase from these scal… er, brokers, you get a buck off in the form of an iTunes download.
A momentary lapse of reason
If, like Prometheus, you've been chained to a rock for the past 300 years and have therefore been prevented from acquiring the Pink Floyd oeuvre, here's your chance. iTunes has Oh By the Way, the complete Pink Floyd studio recordings, available for $140. No out-takes, no digital booklet, no copy of Wizard of Oz to accompany Dark Side of the Moon, and no psychotropic substances to enhance the experience are included.
Order today for tomorrow
Allow me to end this on a less snarky note by mentioning a new iTunes feature that I really like— Pre-Orders. Billed as "Tomorrow's Hits Today," the Store now gives you a glimpse at albums of interest that will be released in the next couple of weeks.
On the Pre-Orders page you can sort albums by Name, Featured, or Release Date. Click on an album cover to go to that album's page where you may find a single that's available for purchase now. Clicking the Pre-Order button on an album page or within the Pre-Order page ensures that when the album is available, you'll receive it the next time you launch iTunes. You don't get a price break for ordering early, but some albums do come with a free bonus track that you get only when you pre-order.