At a Glance
Expert's Rating
Our Verdict
I'm a full-time laptop user, but if I had to rely on my laptop's screen and keyboard all day, my eyes would pop out of my head and my hands would fall off. When I'm at work, my MacBook is plugged into an external monitor, keyboard, and mouse, and my eyes and hands remain attached to my body.
There's one part about this set-up that's always bothered me, though: my laptop does have a perfectly serviceable, albeit small, display. Shouldn't I also be putting it to use when I'm docked at my desk?
Since I first started writing about Macs in the '90s, I've always had some co-workers who were obsessed with a multiple-monitor setup. Some studies show that the more screen real estate you have, the more productive you are.
So after years of running my laptop in lid-closed mode while on my desktop, a year ago I decided to let my MacBook come out of its shell. I plopped it on a $30 RoadTools Podium CoolPad and away I went.
Unfortunately, my 23-inch Apple Cinema Display is a whole lot higher off my desk than my laptop is. As a result, my laptop's screen became a sad little appendage, good for not much more than hosting my iCal calendar.
In order to unify my MacBook screen with my large display, I took the $179 Ergotron Neo-Flex Combo Lift Stand for a spin.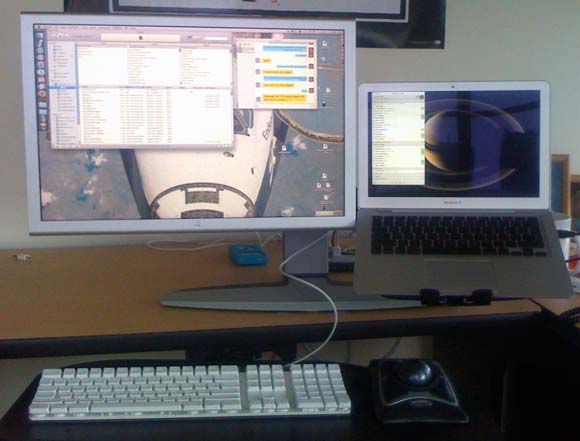 The Neo-Flex Combo Lift is an interesting combination of a monitor stand and a laptop stand. It's one of each, with a VESA-standard display mount on the left side and an adjustable tray for a laptop on the right. (Unfortunately, you can't reverse this orientation. I usually place my Dock on the right side of my display, but in this configuration that places the Dock in the boonies, all the way on the right of the laptop display.)
It took me less than half an hour to assemble the Neo-Flex Combo Lift from its component parts (a darn sight less time than it took for me to assemble my home exercise bike), though since Apple's displays don't come with a standard VESA mount, I needed to buy and install Apple's $29 Cinema Display VESA Mount Adapter Kit first. The stand itself seems well-made and sturdy, and adjusts and swivels easily.
Although Ergotron's web site suggests that the Neo-Flex Combo Lift is intended for displays smaller than mine, I've found that the combination of the 23-inch display and my MacBook Air screen has worked quite well. The laptop tray is tiltable and expands to fit deeper laptops. My MacBook's screen is now at the same height as the middle portion of my display, making it much more integrated into my workspace. And my desk is much more open than it was when it had a laptop sitting on it.
Keep in mind that the laptop's keyboard and trackpad aren't really usable when they're elevated to such heights. The Neo-Flex Combo Lift is designed for people who, like me, prefer to use an external keyboard and mouse when they're docked to an external monitor.
My big complaint about the Neo-Flex Combo Lift is that the height of the display and the laptop can't be independently adjusted. You can change the tilt of the laptop stand in order to make it somewhat higher or lower, but that's it. When you lift the arm holding the display in place, the laptop rises with it. That's good when you want to adjust both, but it does limit your flexibility when it comes to setting up the stand.
Despite these limitations, I found the Neo-Flex Combo Lift to be a clever way for MacBook users to make use of their MacBook display while docked to a second monitor.