IK Multimedia on Tuesday announced the release of SampleTron, a virtual instrument that works either as a standalone application or as a plug-in with other music software. It costs $329.99.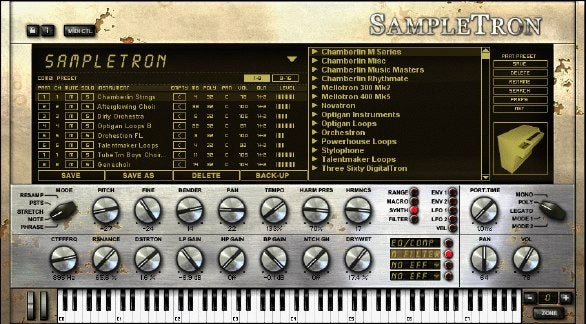 SampleTron is a collection of 17 virtual instruments — the largest collection of "Tron" instrument sounds you can find, according to the developer. SampleTron combines more than 2GB of sounds, 640 presets and 260 multi-samples from keyboards including the Mellotron M400, MK5, MKII and Powerhouse; the Novatron Yako Orchestron; Optigan; Talentmaker; Chamberlin Music Master 600, Music Master 400, Model 200, M1, M4 and Rhythmate; 360 Systems "Digital Tron," Roland VP-330 (Choir) and Stylophone.
32 built-in effects are included, along with the ability to use four effects per part, IK's "Stretch" and synth algorithms and four "Tron"-specific controls.
System requirements call for Mac OS X v10.4 or later, G4/866MHz or faster (Intel included). AU, VST and RTAS plug-in formats supported.