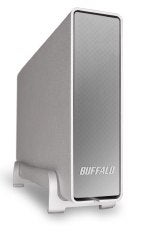 Buffalo Technology on Wednesday announced a one terabyte (TB) version of its DriveStation Combo4, an external hard disk drive. The new drive costs $349 and will be available later this month.
Compatible with macs and PCs, the DriveStation Combo4 features external serial ATA (eSATA), FireWire 400/800 and USB 2.0 interfaces. Inside is a SATA hard drive mechanism operating at 7200RPM.
The Combo4 uses Buffalo's Heat Sink Chassis design to cool the drive inside without needing a fan. It measures 1.42 x 5 x 8.94 inches and weighs 3.09 pounds.
Also available are 320GB and 500GB versions of the DriveStation Combo4 for $149 and $189 respectively.