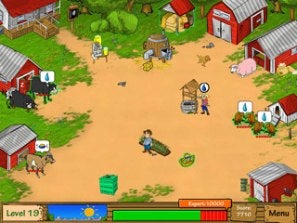 PlayFirst, publishers of the popular Diner Dash series, on Wednesday announced the release of Dairy Dash, a new game in the same vein set on a dairy farm. It's available for Mac and Windows and costs $19.95; a demo is available.
Dairy Dash follows the story of the Smith family, who leave a tech-dominated life in the city to take over their uncle's struggling dairy farm. They have to take care of everything from cows and goats to pumpkins and corn, getting help from Diner Dash's heroine, Flo, along the way.
The game features a Story Mode and Endless Game Mode, and incorporates 52 levels of play. Players visit four farm locations as they try to win.
System requirements call for Mac OS X v10.4 or later, G4/800MHz or faster, 256MB RAM, 800 x 600 display and 26MB hard disk space.