At a Glance
Expert's Rating
Pros
Includes duplexer and automatic document feeder
User-friendly
Speedy
Superior text quality comparable to lasers
Cons
Some colors look muted in scan output
Scan resolution is slightly fuzzy and jagged
Our Verdict
The Pixma MX850 is Canon's all-in-one scanner, copier, fax machine, and ink-jet printer built for the small office or home office. The MX850 prints impressively crisp, legible text that's comparable to laser quality. Add to that speedy performance, solid print results, and extra perks, and you have a superb multifunction printer.
The MX850 is a bit bulky, at 31 pounds, but it sets up in a snap. The printer uses a five-color ink system, which includes the four traditional dye-based colors (cyan, magenta, yellow, and black) and a special pigment-based black to achieve exceptional clarity. After assembling the print head and inserting the ink cartridges, you connect the device to your Mac via USB 2.0 or Ethernet and install the software drivers.
Copying, scanning, faxing, and photo printing are accessible through the MX850's button-control panel, and menus are intuitive and easy to read on the printer's 2.5-inch LCD. The photo-card reader, located behind a convenient door on the right side of the printer, supports the most commonly used memory cards used by digital cameras.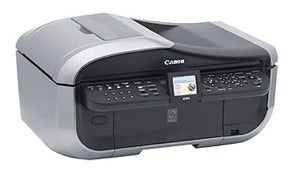 Since you can use most of the MX850's features via the control panel, you'll most likely be using the device with your Mac only when printing documents or scanning media, which the MX850 handles very well. Canon's software for both printing and scanning is very straightforward and work smoothly with the Mac. I appreciated that the scanner driver provided advanced image options, offering flexible control over scans.
Copying on the MX850 is a pleasantly problem-free experience, especially when using the built-in automatic document feeder. Two large buttons allow you to choose between black-and-white or color copying; you use the arrow buttons for setting the number of copies and the copy quality.
The MX850 turned in exceptional text-printing results, earning a rating of Superior from a panel of Macworld experts. In our tests, the printer's text appeared as crisp and legible as you could ever expect from an ink-jet printer. Photo prints were similarly impressive. Our test print of a picnic scene looked brighter and redder than our control photo, but overall it looked very clean and pleasing, earning a Very Good rating.
To test the MX850's copier, we copied the cover of the December 2006 issue of Macworld. The copier did a good job reproducing the colors of the cover, and it captured surprisingly fine details, earning a Very Good rating.
Our jury found the scan quality to be the least impressive of the MX850's output capabilities. In our test scan of a photo, reds looked muted, and some bright colors appeared intensified. I also tested the scanner's clarity by scanning a line chart, and the lines were noticeably jagged and poorly distinguished. The scanner earned an overall rating of Good.
In a busy office environment, a printer's speed is as important as its quality. The MX850 turned in very fast results. In our testing over a USB 2.0 connection, the Pixma MX850 took 1 minute and 17 seconds to print a ten-page Word document, 16 seconds to print a one-page Word document, 1 minute and 26 seconds to print a four-page PDF, and 59 seconds to print a 22MB Photoshop image. The MX850's scanner was also very speedy, taking 28 seconds to scan an 8-by-10-inch photo at 600 dots per inch, and 37 seconds to scan a 4-by-6-inch photo at 1,200 dpi.
Timed Trials: Print
| | |
| --- | --- |
| 10-page Word test | 1:17 |
| 1-page Word test | 0:16 |
| 22MB Photoshop image | 0:59 |
| 4-page PDF | 1:26 |
Scale = Minutes: Seconds
Timed Trials: Scan
| | |
| --- | --- |
| 8-by-10-inch photo, 600 dpi scan | 0:28 |
| 4-by-6-inch photo, 1,200 dpi scan | 0:37 |
Scale = Minutes: Seconds
Jury Tests: Print
| | |
| --- | --- |
| Graphics: Fine Lines and Gradients | Very Good |
| 22MB Photoshop image quality | Very Good |
| Text Quality | Superior |
Scale = Superior, Very Good, Good, Fair, Poor
Jury Tests: Scan
| | |
| --- | --- |
| Color | Good |
| Clarity | Good |
| Copy | Very Good |
Scale = Superior, Very Good, Good, Fair, Poor
Specifications
| | |
| --- | --- |
| Print Resolution | 9,600 x 2,400 dpi (color); 600 x 600 dpi (black) |
| Scan Resolution: Optical | 4,800 x 9,600 dpi |
| Max. scanning bit depth | 48-bit |
| Connection | USB 2.0; Ethernet |
| Paper Sizes | A4, LTR, B5, A5, 2L, 4×6, L |
| Cost to Replace Ink | $73.25 ($14.25 each for black, yellow, magenta and Cyan; $16.25 for pigment black) |
| Weight (in pounds) | 30.7 |
| Dimensions (height x depth x width in inches) | 10.2 x 19 x 20 |
| Paper Capacity | 150 sheets |
| Special Features | Duplexer; automatic document feeder |
Macworld's buying advice
Canon touts the Pixma MX850 as a multifunction powerhouse, and it's worthy of such a description. On top of being fast, easy to use, and excellent at outputting documents and photos, the MX850 includes features such as a duplexer and an automatic document feeder–making it an office-friendly printer. Despite its less-than-impressive scanner output, the Pixma MX850 is a stellar choice.
[Brian Chen is an associate editor at Macworld.]