As April closes, we residents of the great commonwealth of Massachusetts are lucky enough to get back to back Monday holidays. This past week was Patriot's Day, which features the running of the Boston Marathon, and the following Monday, the 28th, is of course, my birthday.
I know. You didn't get me anything. Look, it's okay: I understand. I mean, it's not like you have some sort of magical device that keeps track of dates or anything, that could somehow remind you via a message or tone that there was some special event that you were forgetting. Someday, perhaps, but for now, you just have to rely on whatever space you've got left in that noggin of yours. But look on the bright side: you've still got five shopping days left.
The last thing I want you to do is feel guilty—well, maybe that's the second to last thing I want you to do—so on this week's Gadgetbox, I'm going to talk about some of my interests. Perhaps you can divine a suitable gift from this trio of interesting gizmos.
Damn it, Jim, I'm a doctor, not a doct—never mind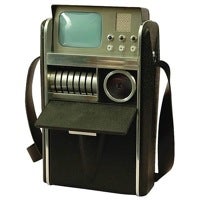 People often question me for wanting a tricorder. "They're not real," they argue. "Just big hunks of plastic with flashing lights." Ha! The power of the tricorder is in the mind of the beholder you see. It's like a badge: it may not do anything in and of itself, but what's important is the way it makes you feel: authoritative, confident, in control.
At one point, I had one of the later model tricorders, but, not unlike Jimmy Carter, I've lusted in my heart over one of these original heavy duty versions. When I was a kid, I had to make do with an ancient similarly-shaped tape recorder—but it's just not the same. Perhaps this authentic replica—an oxymoron if I've ever heard one—can quell the raging inferno of my desire. I mean, seriously: it even has the removable scanner! *Swoon*!
The only downside? It apparently is shipping until October. But at the price of $40, I might be willing to wait a little while for it. As long as I don't have to wait until 2263.
[via GeekAlerts]
I am so metal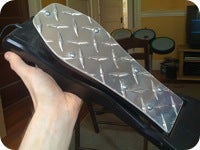 Sit right back and let me share with you a tale of tragedy and woe. As you probably known if you're a regular Gadgetboxer, I'm currently involved in my own personal quest to become the Keith Moon of virtual drumming—without the substance abuse and eventual overdosing, naturally. This past weekend, calamity struck: while in the midst of Coheed and Cambria's " Welcome Home" (iTunes link), I realized something was wrong with my Rock Band drum kit's pedal. This was quickly confirmed by visual inspection.
Whatever to do? First: the research. I could go the MacGyver route and use a solution that required nothing more than duct tape and a pair of butter knives, but that wasn't exactly what you might call stylin'. Asking the game's manufacturer, Electronic Arts, for a replacement would take a while, and would probably cost me a bundle. But further Googling determined that I was not alone in the broken drum pedal department. And all fingers pointed me towards Pedal Metal.
Pedal Metal sells a piece of custom cut diamond plate that screws onto your broken Rock Band pedal, holding it together and hopefully preventing further damage. I went for the basic $15 model, which just goes on the pedal itself—you can also pick up one with a small plate for the base of the pedal, and one that replaces the hinge as well.
The plate arrived today, complete with the necessary screws and illustrated instructions. Altogether, it probably took only about ten minutes to get it installed, and I was ready to take on Coheed and Cambria again—this time I defeated them with no trouble at all, for which I give Pedal Metal full rock and roll credit.
Sony wants us to watch a lot of TV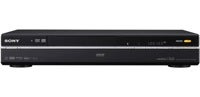 People say I watch way too much TV. Or so I hear. I don't know for sure, because I can't be bothered to listen to talking when Lost is on. Technology has improved television in recent years, thanks to advances that mean we can watch television when and where we want it. While we still may not have quite reached the zenith of television consumption, we seem to be getting closer everyday.
Sony is releasing a line of new Hard Drive/DVD recorders that ought to ratchet us up another notch. The RDX-HX1080 features a 500GB drive that Sony claims can hold up to 1420 hours of standard definition television, plus analog and DVB-T digital tuners. The slightly lower range HX series have analog tuners only. All models include a new HDD camcorder connection for use with Sony's Hard Disk Drive based camcorders, as well as USB connections for transferring music. And the boxes can use magical technology to upscale your existing DVDs to 1080p.
Right now, it seems like these bad boys are targeted primarily at Europe (hence the DVB-T), and we don't have any prices immediately available, but hopefully they—or their reasonable equivalents—will show up on US shores soon, so I can take my television watching into the next century.
[via Ubergizmo]
There you go: there ought to be plenty of fodder in there for you to suss out some sort of birthday present. And, if not, remember: you can never go wrong with a Pez dispenser shaped like a robot. See you next week.