Strong demand for Macs driven by record laptop sales helped Apple turn a $1.05 billion profit for its fiscal second quarter. The company sold 2.2 million Macs from January to March, helping drive sales of $7.51 billion for the strongest March quarter in Apple's history.
Apple's profit rose 36 percent from the second quarter of 2007, with revenue rising 43 percent. The company reported earnings per share of $1.16 for the just-completed second quarter, a 33-percent rise over last year's number.
Peter Oppenheimer, Apple's chief financial officer, said the quarter featured healthy growth from a number of corners. International sales grew 47 percent, sales from Apple's retail stores increased 74 percent, and the company's U.S. education business saw 35 percent growth. That last figure is the highest quarterly growth rate for U.S. education sales in the last eight years.
"Our business performed exceptionally well in the March quarter across each of our segments," Oppenheimer told analysts during a conference call Wednesday.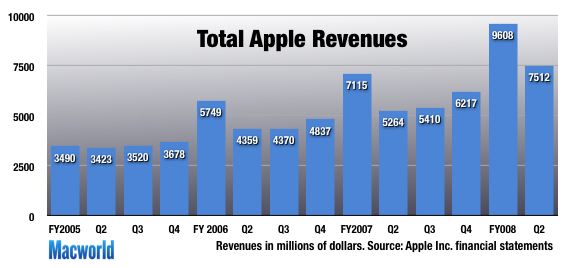 Apple's quarterly performance topped consensus estimates of Wall Street analysts, who were expecting the company to report earnings of $1.07 a share on revenues of $6.95 billion, according to Thomson First Call.
However, Apple's guidance for the next quarter ending in June could give some investors pause. Oppenheimer said the company expects sales of about $7.2 billion and earnings of $1 per share. Prior to Wednesday's announcement, analysts were expecting revenue of $7.16 billion and earnings of $1.10 per share in the fiscal third quarter.
Strong Mac sales
By selling 2.2 million Macs during the second quarter, Apple saw unit sales growth of 51 percent from the year-ago quarter when it sold 1.5 million Macs. Oppenheimer said that figure was the strongest quarterly increase in Mac sales in almost two decades and about two-and-a-half times the market growth rate.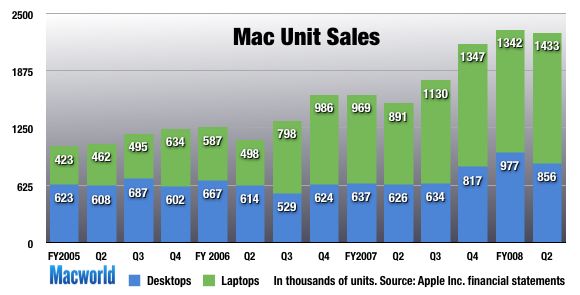 Laptops sparked the growth in second-quarter Mac sales. Apple sold 1.43 million portables during the quarter, an increase of 61 percent over 2007. Oppenheimer attributed the year-over-year growth to continued demand for MacBook and MacBook Pros as well as the introduction of the MacBook Air.
Sales of desktops also increased during the quarter. Apple sold 856,000 desktops, an increase of 37 percent over the 626,00 sold during the year-ago quarter.
Despite topping the 2 million mark in Mac sales for the quarter, Apple ended its run of quarterly Mac sales records; the company had set a new record for total Mac sales in each of the last three quarters. However, the 1.43 million laptops sold during the quarter set a new record for the company.
"The Mac number is really hard to believe," said Gene Munster, senior research analyst with Piper Jaffray. "They just keep growing."
Music moves
iPod unit sales growth slowed in the second quarter. Apple sold 10.6 million iPods during the second quarter compared to 10.5 million during the same period last year. However, the average selling price of iPods has risen—$171 this quarter, up 7 percent from $160. Apple attributed the increase to sales of the iPod touch, which sells for between $299 and $499 depending on the music player's capacity.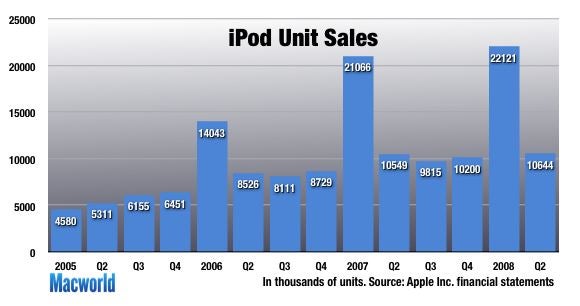 Even though Apple's iPod sales growth slowed during the quarter, Piper Jaffray's Munster said the actual result bested expectations. "We have been bracing ourselves for bad iPod results for a long time," said Munster. "The street was expecting 9.5 to 10 million, so it's still better than we thought."
Munster added that he's not concerned by a slowdown in iPod sales growth because of future directions that exist for the device. "They are going to redo the entire iPod family and move more into Pocket computing," he said.
Overall Apple's music business was a strong earner for Apple, accounting for 36 percent of the company's total quarterly revenue. While iPod shuffle sales were down were down overall, Oppenheimer noted that a February price cut for the low-end music player helped spark an increase in the latter part of the quarter.
Oppenheimer also touched on the iTunes Store, saying it now accounts for more than 85 percent of legally purchased music in the U.S., recently topping Wal-Mart to take the number one spot. Apple reported that movie rentals, one of the newest iTunes services, has been well received by customers, although the company did not provide details on how many movies have been rented to date.
After adding TV downloads to the German version of iTunes earlier this month, Apple indicated that it plans to expand its video sales internationally over the next quarter.
iPhone figures
Apple sold 1.7 million iPhones during the second quarter, bringing the company's total phone sales to approximately 5.7 million since launching the mobile device last June. Both Oppenheimer and chief operating office Tim Cook reiterated that Apple remains confident that it will sell 10 million iPhones by year's end.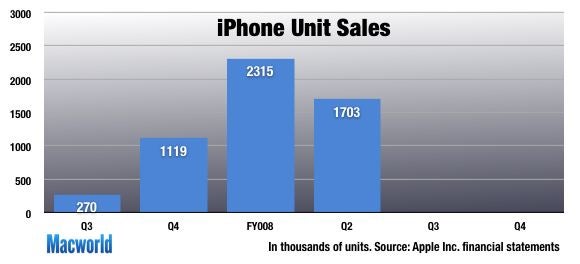 Apple noted particular interest in the iPhone software development kit it unveiled last month, with Oppenheimer describing developer response as "tremendous." More than 200,000 developers have signed up and downloaded the SDK.
Read more on developer response to the iPhone SDK
Apple expects to release the 2.0 version of its iPhone software in June. Because the update will be free to iPhone users, Oppenheimer told analysts the company will delay the reporting of revenue between the March 6 announcement of the 2.0 update and its late June release.
Apple recognized $378 million in total iPhone sales in the second quarter. Total deferred revenue was $1.93 billion at the end of the March quarter, compared to $1.44 billion for the fiscal first quarter ending in December.
Odds and ends
Apple saw 74 percent growth in sales from its retail stores to $1.45 billion. The company opened four brick-and-mortar stores, ending the quarter with a total of 208 around the world. The company is planning to open 45 stores in the 2008 fiscal year, with openings planned for Australia, China, and Switzerland.
Oppenheimer said the primary objective of Apple's retail efforts have been to get more out of the Mac. To that end, the company held 580,000 one-hour personal training sessions at Apple Stores during quarter.
Oppenheimer said the company generated $4 billion in cash flow from operations in the first half of fiscal 2008, giving the company a cash balance of $19.4 billion.
Updated at 2:15 p.m. PT with new information throughout the story. Updated at 4:20 p.m. PT with information from Apple's conference call with analysts. Updated at 5:15 p.m. PT to add comments from Piper Jaffray's Gene Munster.