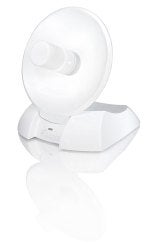 Hawking Technologies on Thursday introduced the HWDN1A Hi-Gain USB Wireless-300N Adapter. The new Mac-compatible wireless networking adapter costs $109.99.
The device — which looks like a tiny satellite dish — sports a high-gain dual antenna feed that's designed to boost Wi-Fi reception distance by up to 600 percent, compared to a standard wireless network adapter, according to Hawking. It's based on a similar design that Hawking previously released for 802.11g-based networks; this one supports faster 802.11n-based Wi-Fi networks, too.
The wireless adapter connects using USB 2.0, and is compatible with Mac OS X v10.3 or later. It supports WEP, WPA and WPA2 security protocols, and includes "Setup Wizard" software on an included CD.