Deliver2Mac has announced the release of RuneSoft's Blitzkrieg for Mac OS X. The game costs $39.95.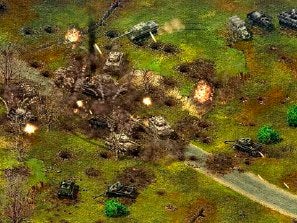 Blitzkrieg is a real-time strategy game set during World War II, in which you control Soviet, German and Allied forces in a series of campaigns with more than 80 missions in total.
Blitzkrieg features more than 200 different 3D vehicles with realistic weaponry and armor, large units such as trains and coastal artillery, 3D landscapes, the ability to extend armies using promotions and special missions, more than 40 kinds of infantry, more than 250 types of buildings and objects and more. The game also features support for multiplayer gaming via Local Area Networks (LANs).
System requirements call for Mac OS X v10.4 or later, G4/860MHz or faster (Intel included), 256MB RAM, 32MB RAM (GMA 950 included), 2.6GB hard disk drive space and Internet access.