At a Glance
Expert's Rating
Pros
Works with Leopard's built-in Bluetooth support
Has decent battery life
Doesn't draw power from iPod/iPhone
Charges quickly
Includes many accessories
Works with anything with headphone jack
Cons
Can't use while charging
Controls difficult to use without looking
Two batteries means two things to keep charged
Frequent light static
Impenetrable instructions
Subpar audio performance
Transmitter is unwieldy
Our Verdict
Someday, we'll be able to wear one pair of headphones that will be able to patch into any audio source around us—phones, iPods, you name it. If you find this idea disconcerting, don't worry—that day certainly isn't here yet. I've been testing the Genius BT-03A Bluetooth wireless headphones, which can be used with both A2DP-capable Bluetooth devices (which, at least currently, excludes the iPhone) and, via the included transmitter, any device sporting a standard headphone jack (in the iPhone's case, using an adapter). I can say that while the wireless functionality works well enough in many situations, this isn't going to be your one pair of headphones to rule them all.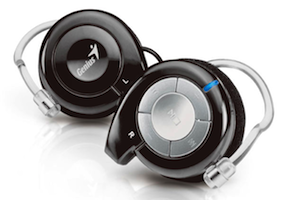 The BT-03A consists of a pair of lightweight, earclip-style headphones connected by a thin wire. Each side has an adjustable ear hook, but the right earpiece is clearly the dominant one, featuring playback controls, a microphone, a status light, and a power-charging port. The controls, located on the outside face of the earpiece, consist of a large Play/Pause button surrounded by arc-shaped Volume Up and Down buttons (above and below, respectively) and Previous and Forward buttons (on the left and right side, respectively).
In addition to the earphones themselves, the package includes with a number of accessories, including a carrying case, an extra pair of foam ear covers, an AC adapter with a USB cable and a dongle for European wall outlets, a small RCA-to-minijack audio cable, and, most importantly, the audio transmitter. The transmitter is a small box, 1.6 by 1.6 by 0.6 inches in size, with one big button and a status LED. A small "tail" with a 1/8-inch miniplug protrudes from one side.
The transmitter lets you use the BT-03A with any device with a standard headphone jack—for example, an iPod, a computer, or a radio—and enjoy audio. Bluetooth pairing (connecting the transmitter to the headphones) isn't a difficult process, but it's complicated somewhat by the unit's rather impenetrable documentation, which is written in poorly-rendered English. Starting both the transmitter and the headphones from their off states, you put each into pairing mode by holding down its power-on buttons (the Play/Pause button on the headphones) until its status lights start blinking red and blue. Although with most Bluetooth devices, an initial pairing is all that is necessary, in my experience, the most reliable approach was to pair the BT-03A's two components each time I wanted to use them together.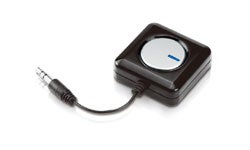 If you've got a Mac with Bluetooth and running Leopard, you can avoid the transmitter altogether and take advantage of the built-in support for the Bluetooth Advanced Audio Distribution Profile (A2DP) to stream music from your computer (earlier versions of OS X are limited to using the Bluetooth headset profile, which doesn't provide stereo audio). Just pair your Mac with the BT-03A's headphones using Apple's Bluetooth Setup Assistant (accessible via the Bluetooth pane of System Preferences), and you can then select the headphones as your output device in the Sound preference pane.
When connected to my MacBook via Bluetooth, the headphones' playback controls let me control iTunes. (The BT-03A's volume buttons change the headphone volume, not the volume of the Bluetooth-connected source; the two can be adjusted independently.) However, if you instead connect using the included transmitter—by plugging the transmitter into your Mac's headphone jack—you don't get the same functionality. In that case, the volume controls will continue to work, but the Forward and Previous controls will not, and the Play/Pause button will just mute the headphones instead; audio will continue to play on the source.
Speaking of these buttons, I found them to be difficult to use without looking. The large Play/Pause button is easy enough to find by feel, but there's no simple way to tell the Forward, Previous, Volume Up, and Volume Down buttons apart; it's easy to hit the wrong one by mistake. The buttons also require too much pressure to activate, making you feel like you're poking yourself in the ear.
If you pair the BT-03A with a Bluetooth-capable mobile phone, it'll also work as a standard headset; I tested out the phone functionality with my iPhone. The sound on the headphones is fine for phone conversations and according to the people I talked to, the microphone picks up sound adequately, if a little muffled. I was pleasantly surprised by that, since the mic is just a pinhole opening on the inside of the right earphone. While you're paired with the phone, the volume buttons work as normal, but the Play/Pause button can be used to answer or hang up calls; the Forward and Previous buttons do nothing at all.
You can pair the BT-03A with multiple sources of audio at once, though, as with other combination Bluetooth headset/headphones I've tested, this process can be persnickety: you have to do things in precisely the right order by pairing with your phone first, and then your music source. If you get this working—for example, by pairing with a mobile phone for calls and with your Mac for music—receiving a phone call causes the BT-03A to mute the music (if you're using the audio transmitter) or fade out the music (if you're paired with your Mac via Bluetooth) to let you take the phone call. However, when using the transmitter, I often found myself frustrated trying to get the music back after taking a call. The transmitter would also shut itself off on occasion if I was using the phone functionality for too long—a welcome feature for conserving battery life, but annoying when I wanted to go back to listening to music afterwards.
On the topic of batteries, it's worth noting that both the headphones and the audio transmitter have internal batteries, which can be charged using the included USB cable or AC adapter. There are upsides to this approach: for example, since the transmitter has its own battery, it won't drain the battery from your iPod. But there's also one obvious downside: two batteries means two things to keep charged if you want to use your headphones. There's nothing worse than having a fully juiced iPod and no headphones with which to listen to your tunes. Furthermore, you can't use either the headphones or transmitter while they're charging. At least both charge pretty quickly; after the initial charge, it only takes an hour or two to charge them up. And, in my limited testing, provide decent play time. With moderate usage, I only had to recharge them every few days.
As far as audio performance goes, the BT-03A is nothing to write home about. While the bass reproduction is not terrible, it is on the somewhat-muddy side, and the highs sounded thin to my ears. Audio also frequently suffered from very-light background static. In some situations, I found that cupping my hand over the right earphone caused the headphones to just drop all sound, and I also ran into other interference issues where the headphones stopped receiving sound from my laptop (something I blame on my laptop). Between this and other Bluetooth headphones I've used, my faith in Bluetooth as an audio protocol is shaky at best.
Macworld's Buying Advice
Unless wireless functionality is truly the most important factor in your headphone purchase, the BT-03A is probably not for you. While the mobile phone integration is decent and the unit sports respectable battery life and range, the sound quality is disappointing and listening to music over Bluetooth is wonky at best. Coupled with the difficult-to-decipher documentation, using the BT-03A means spending more time living with the frustrations of getting it to do what you want it to do, and less time enjoying the features that it could bring.
Note: When you purchase something after clicking links in our articles, we may earn a small commission. Read our affiliate link policy for more details.