For many people, laptops are just a way to take work down to the corner café. But for true road warriors, portable computing means bringing along all your computing essentials without having to schedule a visit to the chiropractor. As a Macworld editor, I'm often asked what I pack in my laptop bag; here's a look at the kinds of accessories that are on my must-have on-the-go list, along with some specific examples of them.
Portable hard drive
Just because your laptop is always with you doesn't mean you don't need a good backup. Thankfully, portable drives are smaller and lighter than ever. LaCie's $140, 5-ounce Little Disk (A), for example, offers 60GB of storage in an attractive USB 2.0 enclosure that's only 2.6 by 1.7 by 0.7 inches in size. Keep your backup drive separate from your laptop bag; if one is ever stolen, you'll still have the other.
Network cable
Not all hotels and businesses have wireless Internet access. So a compact networking cable is a must. Zip-Linq's retractable cables ($15) work well and take up minimal space in your bag. If you've got a MacBook Air, you'll also need Apple's USB Ethernet Adapter ($29).
Portable USB hub
If you use more USB devices than you have ports for—we're looking at you, MacBook Air owners—you'll appreciate the utility of a compact USB hub. Dr. Bott's tiny T3Hub ($20; B) weighs only 21 grams but converts a single USB port into three. It can host two low-power USB devices and one high-power device.
Multi-outlet power strip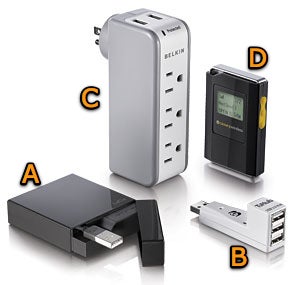 If you're lucky, your hotel room will have a wall outlet so you can plug in your laptop's AC adapter. But what about all your other gadgets? Belkin's compact Mini Surge Protector with USB Charger ($25; C) turns a single outlet into three surge-protected versions; it also provides two ports for charging and powering gadgets via USB.
USB power cables
Instead of lugging a separate AC power adapter for each gadget, look for compatible USB power cables; you can then use a USB power adapter—such as the Belkin model noted above—or even your laptop's USB port(s) to charge your gear. For example, Apple's dock-connector cable lets you charge iPods and iPhones via USB, and many mobile phones have USB-charging accessories. Zip-Linq's Charge-n-Sync line (starting at $11) offers power supplies for many portable devices.
Wireless detector
When you're looking for a place to get online, you could use OS X's AirPort menu, which shows you nearby wireless networks. But that means hauling out your laptop and waiting for AirPort to scan the area. A wireless-network detector can save you that hassle. Canary Wireless's new 2.5-ounce Digital Hotspotter HS-20 ($60; D) quickly shows you the wireless networks in range, along with network type (802.11b, g, or n) and security status (open, WEP, WPA, or WPA2), for each.
Backup battery
If power outlets are few and far between or you can't swap your laptop's battery for a fresh one, a portable power source can give you the extra time you need. Kensington's rechargeable Portable Power Pack for Mobile Devices ($60; E) is slim and lightweight (just 3.5 ounces) and offers a longevity boost to small gadgets—for example, 5 more hours of iPhone talk time or 14 hours of additional iPod video playback—via a USB connection.
If you need to juice up your laptop, Duracell's PowerSource Mobile 100 ($140; F) is bulkier and heavier (1.2 pounds), but it features two USB power ports and a standard three-prong outlet for plugging in an AC power adapter. It can extend your laptop's use by about 2 hours, your mobile phone's talk time by 15 to 20 hours, or your iPod's audio playback by nearly 100 hours.
Finally, Battery Geek's External Laptop Batteries (G) use a custom MagSafe cable ($10) to provide three to six hours of additional usage for Apple's MacBook and MacBook Pro laptops. However, Battery Geek's batteries don't come cheap ($250 to $300), and they weigh two pounds.
Security cable
A hotel safe or a locked office is the safest place to keep your laptop. But if you must leave it in a less-secure location, a high-quality computer lock may offer enough of a deterrent so that a thief will move on to the next object of desire. PC Guardian's Ezolution models ($40 to $58) use seven-pin key locks or 10,000-combination numerical locks that offer better security than many competing products.
Return tag
Give honest folks a chance to do the right thing by using a security label from StuffBak, TrackItBack), or zReturn. You put a uniquely numbered tag on your laptop, iPod, or other device and register that tag with the service—you can even designate a reward amount. Any Good Samaritan who finds the item can call the number on the tag to initiate the return process.
The right bag
If you travel frequently, consider using a rolling case instead of a backpack or shoulder bag. You'll be able to carry more—possibly even a change of clothes—without putting stress on your shoulders and back. Case Logic's new airline-friendly 18- and 22-inch Lightweight Upright Rollers ($150 to $180) get their rigidity from panels of molded EVA plastic instead of metal frames, a design that reduces their weight while still protecting your belongings. Each Roller features dedicated laptop, organizer, and water-bottle compartments, as well as a separate main section for large items.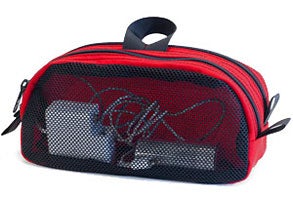 Organize your extras
If you alternate between trips to the coffee shop and trips across the country, you don't always need your full complement of gear. Instead of unpacking and packing everything each time, keep all your "serious travel" gear in a separate, smaller bag that you can throw in your laptop bag for longer trips. Tom Bihn's $25 Snake Charmer (right) is a good size with see-through side panels so you (and the TSA) can keep track of what's inside.
[Senior Editor Dan Frakes runs the Mobile Mac blog.]