A response to Christopher Breen
Dear Chris,
I'm not necessarily a "glass half full" kind of guy, but I don't agree with your claim in last Thursday's Playlist blog post that iPod gaming sucks. It isn't the ideal game platform, true, but there's actually quite a few decent games for the platform.
We're both veterans of the Game Room column, and I confess that I've seen more yawn-inducing "match three" Mac puzzle games and lame first-person shooters than any sane, rational person should have to deal with in a lifetime.
I try not to let that inure me to experiencing a truly execrable game, however, and I confess that I've had my share of lousy iPod games too.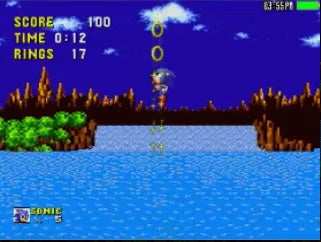 Sonic the Hedgehog is a practical example. I love Sonic, and played the heck out of him on the Genesis, even bought the classic game for the Xbox 360 when it came out on the Xbox Live Arcade service. But it's just a bad iPod experience, for many of the reasons you suggest: The screen is too small and the click wheel is a wholly inadequate control system. That's the same thing that made Pole Position: Remix such a rotten iPod game too.
Those same limitations don't affect Bomberman, though, and I've had a lot of fun with The Sims Bowling and The Sims Pool. Phase, the music game from the makers of Guitar Hero and Rock Band, is hellaciously good fun too. Though I'll be the first to admit that my eyesight isn't what it used to be, and my hand cramps up faster than it probably should. But as five or 10 minute diversions, which is really where I think the strength of iPod gaming lies, these are fun games.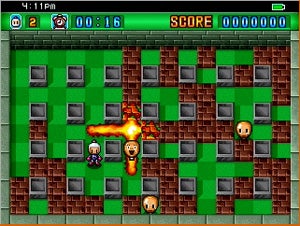 As far as audio is concerned, well, Chris, I'm afraid that you and I are of two minds on this one. After all, music doesn't work on the iPod unless you have your earbuds plugged in. When I use them, I hear plenty of sound effects and music from my iPod games. I hear my music, too—iPod games are quite good at making sure that you can use your own music library when you want.
Is the iPod going to give a Sony PlayStation Portable or a Nintendo DS a run for its money? Hell no. But that's not the intent. Gaming on the iPod is, and will remain, a sideshow.
But here's where things get interesting: Consider iPod gaming's relationship to the iPhone. The two businesses could not be better examples of extreme contrast.
iPod game development has always been shrouded in secrecy. Apple has never published a software development kit (SDK) for the iPod, and doesn't reveal who's working on what games. This, by the way, has been a sore point for many Mac game developers, who wanted to get on board with iPod game development but were turned away. The company has also sworn to secrecy its development partners. I've asked the companies that make iPod games about the process, and I inevitably hit a stone wall.
Apple doesn't publish any data about how well iPod games have sold, either, so it's really anyone's guess as to how these games fare in the marketplace. Anecdotally, I don't know too many people who have downloaded as many iPod games as I have. I expect that many iPod users may give one or two games a try, but once the novelty wears off, they're not likely to keep at it. It's a bit like trying to play a game on a cell phone (one that isn't an iPhone, anyway).
iPhone application development is still a work in progress. There is an SDK, though it's a moving target, and many game developers have signed up to create games for the iPhone. Some of them have even announced their plans. By all accounts, it looks like gaming on the iPhone is going to be a prominent component of third-party application development on the platform, as opposed to a sideshow.
If you take a careful look at some of the big companies developing games for the iPhone that we know about already, some jump out at you. There's EA. There's Sega. There's Gameloft. I don't think it's coincidence that these companies have been involved in iPod gaming for a while. I speculate here, but I wouldn't be surprised to find out that their iPod game development gave them an inroad to get on board with iPhone game development too.
So when the iPhone 2.0 software finally makes its debut this June, I fully expect that the spotlight will be on iPhone apps and games. But I don't expect this will spell the end of iPod gaming, either. Apple's iPhone sales are a fraction of its iPod sales. The iPod touch is certainly an important component of that, but until the line (and the price) blurs further between Apple's click wheel iPods and touch screen systems, I expect that iPod gaming will be around for a while.
Love and kisses,
Peter