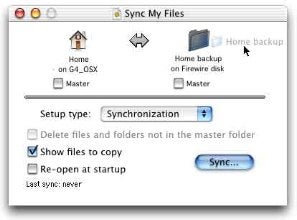 Qdea has released Synchronize Pro X version 6.0, an upgrade to its file synchronization and backup software for Mac OS X. It costs $99.95 for a two-year license.
Synchronize Pro X helps you create bootable backups of your system on another hard disk. You can use it to keep old files that have been replaced or deleted; set up synchronizations using drag and drop; display hierarchical lists of files to be copied; check for conflicts; create automatic synchronizations and more.
New to this release of Synchronize Pro X is a "Fast Scan" feature that speeds up folder scans on Mac OS X v10.5 "Leopard" and later. Folder watching has been added to trigger real-time backups when folder contents change. New monitoring sends an e-mail notification for a backup that occurs; Access Control Lists (ACLs) are now copied; and more.
Synchronize Pro X requires Mac OS X v10.3 or later.