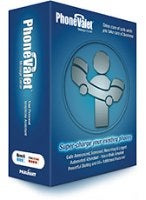 Parliant on Tuesday announced the release of PhoneValet Message Center 5.4, an update to its telephony software for Mac OS X. It's a free upgrade for registered users of 5.x; PhoneValet is priced at $169.95 per line.
PhoneValet Message Center turns a Mac into a call center, complete with automated attendant, voice mail tree, call blocking, recording and logging capabilities, and more. It uses standard and Internet telephone lines to do this, including cable telephone lines and Voice over IP (VoIP) services.
The new release includes new audio compression characteristics that allow better-sounding audio to be played on iPhone and iPod touch (via Parliant's PhoneValet Anywhere product). The new software also adds the ability to handle calls based on the area code of the caller (such as being able to block 800 numbers, for example). A new timed backup feature is also new.
System requirements call for Mac OS X v10.3.9 or later, QuickTime 6.5.3 or later, USB port, 1024 x 768 resolution. A USB telephone adapter is required and included.