At a Glance
Expert's Rating
Our Verdict
Here in Mac Gems, we've covered a few ways to securely store personal data; for example, 1Password ( ; $30) and Steel ( ; $9) are excellent utilities with lots of features, and 1Password's browser integration is unsurpassed. But if you're looking for something simpler—just an easy-to-use utility for storing passwords, software licenses, and similar information—Markus Mehlau's free Pastor 1.8 ( ; donations accepted) is a good alternative.
Pastor is essentially a database program designed for the specific purpose of storing this type of info. On the left side of Pastor's window is your list of records. On the right is the information for the current record: entry name; URL; user ID, name, or login; password, serial number, or PIN, and notes. Click on the Add Entry button to create a new record.
Pastor automatically sorts entries for easier browsing, and while there's no search field, typing the first few letters of a record's name selects that record.
You can copy to the Clipboard the user/name/login field or the password/serial/PIN field by clicking the respective Copy button; similarly, you can visit the URL for a record by clicking on the Visit button. (While browsing records, the password field is obscured by default, but you can view the actual password by moving the mouse cursor over the Password field.)
Pastor stores its data in RC4-encrypted document files. An advantage to this document-centric approach is that you can keep different types of data—for example, work and personal—in different Pastor documents. On the other hand, a potentially-confusing behavior is that Pastor doesn't automatically open a document when you launch the program; you'll need to open the desired document manually. (The easy workaround is to launch Pastor by opening the desired document itself rather than by launching the program directly.) When opening a Pastor document, you must provide the document's password.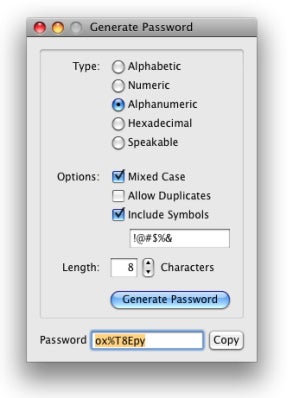 A useful bonus feature is Pastor's built-in password generator. Click on Generate Password (or press Command+G) and Pastor will generate a secure, random password based on the criteria you set. For example, I chose to create an 8-digit alphanumeric password, using mixed letter case, and including symbols from a list I provided; the resulting password was ox%T8Epy. Click on Copy to copy your newly-created password to the Clipboard for use elsewhere. (I'd like to see an option to automatically insert the newly-generated password into the current record.)
If you want a textual list of your data, Pastor lets you export it (after providing the password for the document) as an unencrypted, tab-separated text file. Just be sure to store this file in a safe place, such as an encrypted disk image or a physical disk that's itself stored in a secure location.
Unfortunately, there's no way to import data; for example, from a spreadsheet or text file. I also wish Pastor offered more keyboard shortcuts and better keyboard navigation—there's no shortcut for Add Entry, and you can't use the Tab key to navigate Pastor's interface, as you can with many other Mac programs.
Of course, you could just use Mac OS X's Keychain Access utility (in /Applications/Utilities) to store this type of data in your keychain. But Pastor's interface makes it easier to browse, view, and copy serial and registration numbers. And its password generator is a great bonus.
Pastor 1.8 requires Mac OS X 10.2 or later.