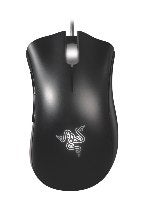 Razer has introduced a Macintosh-compatible version of its DeathAdder gaming mouse. It's expected to be released in May for $59.99.
The DeathAdder has already been available for a while as a PC gaming mouse. While it's compatible with the Mac, as all USB mice are, up to now, Razer hasn't offered Mac-specific software drivers for it. Razer is also taking the added step of offering the DeathAdder for Mac in "lunar white," similar to Razer's line of Mac-compatible pro products.
The DeathAdder sports a right-handed design and features an 1800 dot per inch (dpi) infrared sensor. The mouse has a total of five buttons, including a clickable scrollwheel, and sports teflon feet to reduce friction on the desk.
The drivers included with the DeathAdder for Mac enable users to program "On-the-Fly Sensitivity," so you can customize and adjust mouse sensitivity for the specific games you play. The buttons have a rubber-coated matte finish that enhances gripping ability.