At a Glance
Expert's Rating
Pros
HDMI inputs
Adjustable stand
Integrated speakers
Cons
On-screen images were bluish and washed out at defaults
Limited viewing angle
Our Verdict
V7's D24W33 is a 24-inch widescreen monitor. Its built-in speakers, HDMI inputs, and small price tag will please the budget-minded consumer who wants multimedia features, but its limited viewing angle and slightly washed out appearance should have color pros looking elsewhere.
The D24W33 can be rotated into portrait mode and has a height-adjustable stand. The display includes an analog VGA port as well as an HDMI input, but it's lacking a DVI port, the type of connection used by most Macs. For compatibility, the D24W33 does include an HDMI-to-DVI converter cable.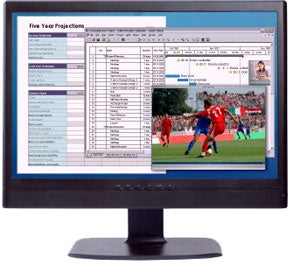 The first time I set up the monitor using the HDMI-to-DVI cable, the D24W33 didn't sync to my MacBook Pro automatically, because the display was set to look for a VGA connection. I had to change the video input setting using the monitor's on-screen controls to switch to HDMI input. Once I got past that, the display came up in its native 1,920-by-1,200 pixel resolution.
At the default color settings, the display's images had a blue tint and were washed out. Calibrating helped bring the colors back in line, and adjusting the brightness helped return some image detail that wasn't visible at the default settings.
One thing calibration couldn't do was expand the D24W33's limited viewing angle . Color shifts and loss of contrast were apparent when moving just a little bit away from center. This may not be a problem if you tend to sit still directly in front of your screen. If, however, you often collaborate with coworkers around your monitor, the limited viewing angle could become bothersome.
As a multimedia display, the D24W33 boasts a fast 2ms response time that can help when playing games or watching movies. You can use the HDMI port for connecting consumer electronics components, but since there's only one HDMI port, you'll need to disconnect your Mac if you're using the included HDMI-to-DVI cable. (If you want to connect both a Mac and an HDMI device at the same time, you can connect your Mac to the VGA port using a DVI-to-VGA adapter while your HDMI device uses the D24W33's HDMI port.) The display also features built-in stereo speakers, and though they are nothing to write home about, they sound better than the audio coming from my MacBook Pro or Mac Pro.
Jury Tests
| | |
| --- | --- |
| Viewing angle | Fair |
| Color fidelity | Good |
| Text legibility | Very Good |
Scale=Superior, Very Good, Good, Fair, Poor
Specifications
| | |
| --- | --- |
| Size | 24 inches |
| Native resolution (in pixels) | 1,920 x 1,200 |
| Connections | 1 HDMI, 1 VGA |
| Viewing angle | 160 degrees |
| Brightness | 250 cd/m2 |
| Response time | 2ms |
| Contrast ratio | 1,000:1 |
| Dimensions (height x depth x width, in inches) | 17.5 x 8.7 x 22.3 |
| Special features | HDMI for consumer electronics: HDMI-to-DVI cable for Mac connection; integrated speakers |
| Warranty | 3 years |
Macworld's buying advice
The V7 D24W33 is a pretty average display when it comes to performance. But with a below-average price and some nice features, like speakers, HDMI input, and a flexible stand, this monitor will appeal to budget-conscious shoppers looking for a display that shows more than just spreadsheets and Web pages.
[James Galbraith is Macworld's lab director.]